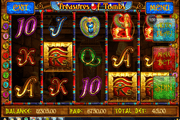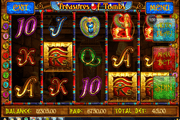 Treasures of Tombs : Discover Riches by Unraveling Total Bet Multipliers in Bonus Game
Treasures of Tombs online slot by Playson takes online casino recreational gamblers on an exciting adventure inside ancient Egyptian Tombs. Players will get a chance to virtually explore a chamber containing treasure chests and unravel Total Bet Multipliers. Those who succeed in collecting only the rewards in store will get a chance to advance to the Super Bonus Game; from there, their total winnings are guaranteed to increase in folds, as they will unravel a greater Multiplier factor.
The reel element that makes it possible for players to enter the Bonus Game is the Eye of Horus. While spinning the reels in order to land on that symbol, their spins can land on matched symbols of a female adventurer, of her archaeological finds and of the A, K, Q, J and 10 icons. The female, Indiana Jones type of adventurer, awards the highest pay among the regularly appearing elements. Treasures of Tombs game awards 10, 100, 1000, or 5000 coin credits on as few as two, or as many as 5 lining up in a payline.


To be evaluated as payline win, one-of-a-kind groupings though must conform to a pay pattern starting from the leftmost reel. Also, only the longest grouping occurring per win line earns a corresponding pay.
Treasures of Tombs Online Slot: Eye of Horus Symbol
The Eye of Horus icon represents both Wild and Bonus Game Symbols. Identical images, lining up in a payline in which an Eye of Horus image/s is positioned, can be completed or extended via Wild substitution. The rewards earned from Wild-completed wins depend on the equivalent payouts awarded by the winning symbol.
Yet if the Eye of Horus itself lands in groups of 3, 4, or 5 in any position across the Treasures of Tombs slot board, the arrangement albeit scattered, triggers the loading of the Bonus Game. In addition, an Instant Bonus Reward of 2x, 20x, or 200x the Total Bet will be credited as initial bonus winnings. The number of Eye of Horus icons scattered across the reels determines the initial Bonus Reward.
Treasures of Tombs Bonus Game
A chamber containing four dazzling Treasure Chests will be presented as items that contain mystery Multiplier prizes. Choosing a correct Treasure Chest will reveal a Multiplier. A bonus reward, equivalent to the current Total Bet multiplied by the factor revealed, will then be credited outright. After which, players open another chest and will continue to do so as long as the items selected will reveal another multiplier. This denotes that with every Mystery Multiplier unraveled, another Bonus Reward will be awarded.
Revealing the Total Bet Multipliers held by all four Treasure Chests will bring players to another chamber. In that second chamber, the final challenge is to select between two Jars. Both Jars hold a high Win-Multiplier, it is only a matter of selecting the highest of the two. This time, the high multiplier applies to the Total Winnings collected in the concluded Bonus Game, therefore raising the Total Bonus Wins by a significant number of folds.
However, if at any time a chest selected reveals a x0 multiplier, the Bonus Game ends immediately.