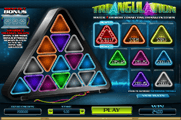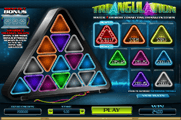 Triangulation Free Slot
Triangulation is a very unique slot game, it is very unique in its format and appearance that some people might not even consider it a slot machine, but after all is said and done, players will get paid when similar symbols align adjacent to each other. So it is a slot machine at heart, no matter how different it might look. The game is named triangulation for a clear reason, which is the fact that the game comes in the shape of a big triangle that has a total of 16 smaller triangles of different colors inside of it. These triangles represent the symbols that will change every time start the game.

The Unique format of the Free Slot
These triangles come in 7 different colors. Each color pays players differently. Players will be able to find out the amount of the payouts at the right side of the reels as they will see each color and its payout per triangle. In order for players to claim a payout, they will have to get at least 4 matching triangles adjacent to each other in any position to claim a payout. This is why the game does not have any paylines, as any similar symbols anywhere will give players a payout.
The grey triangle gives players 0.1x their wager, the purple one gives players 0.2x their bet, the blue one pays players 0.8x their bet, the pink one pays players 1.2x their bet, the green one pays players 2.5x their bet, the yellow one pays 4x the bet the orange one pays 5x the bet while the wild red one pays players 10x the bet. The red wild triangle can substitute for any of the other triangles in order to form a winning combo of triangles so players can get paid. The above mentioned payouts are per triangle, so if players get 4x red wild triangles side by side, they will earn 4x their bet for each triangle (given they placed a bet of 30 coins), they will earn 120 coins.
Speaking of the bets, they are placed under the reels at the Stake cell. Players will just need to toggle between the available stake values to determine how much they want to place in bets for each round. These stakes have a minimum of 0.01 and a maximum of 50 credits per round. The payouts that players will succeed in earning will show at the Win Cell.
There is a bonus round called the Swap Bonus. It is triggered when there are three bonus triangle symbols appearing after the payouts have been given. Also, the game has a rewarding feature, as any triangles that are matched will disappear and new ones will fill in their place giving players yet another chance to earn a payout at the same round with the same stake they placed.