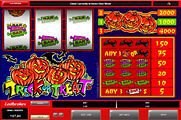 Trick or Treat is a slot machine that is themed around that amazing time of the year when the streets become filled with scary monsters and sexy nurses, it is the time of the year where we go from house to house asking for chocolate and candy bars, it is Halloween. This is why the game is entitled Trick or Treat, which is the phrase that we all say after we knock on the doors of our neighbors, they either endure a trick or give us the treat we want. There are many games that are inspired by Halloween and Microgaming understands that, this is why the software and gaming developer made sure that the game stands out from the rest of the games that have that theme.
The slot machine is a classic slot that offers players three reels of pure fun and spread across these reels, players will find an equal number of paylines. The color that dominates the release of the game as well as the interface of the slot is none other than the color of pumpkin, the Halloween fruit, it is the color orange.
The Halloween theme is stressed further more with the presence of scary looking pumpkins under the reels of the game on the left side. Players will see a total of 4 pumpkins surrounded by black bats and under them, players will see the name of the game, Trick or Treat, written in colorful letters.
Spread across the reels and lines of the game, players will see symbols such as bar symbols including 1 bar, 2 bars and 3 bars. Instead of the usual black and white bar symbols, these bar symbols come in the form of candy bars with colorful covers. Other symbols include black bats and orange pumpkins.
Before players can start spinning the reels of the game, they will be asked to place a wager. This wager can be placed at the bottom of the game's screen. Players will find the control panel that shows players the different betting options that will allow them to place their bet. The first option is the value of the coins, players will be able to toggle between the different coin sizes by clicking on the + and the – signs. The available sizes vary between 0.25 and 5. The other betting option is the number of coins as players can place 1, 2 or 3 coins.
On the right side, players will find the payouts that players can earn through the game. These payouts vary between 5 coins and up to 4000 coins. The smallest payout, 5 coins, is paid to players who get any three bar symbols on a payline. As for the highest payout, which is the jackpot of the game, it is paid to players when they get 3x pumpkin symbols on a payline after placing the maximum bet of 3 coins.