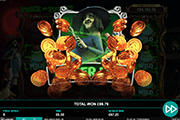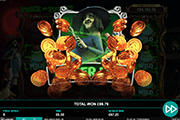 Trick or Treat? : Wild Reel Treats, Pumpkin Instant Wins and Creepy Candy Free-Spins!
Trick or Treat? online slot by Leander Games captures the Halloween theme by awarding bonuses by way of Wild Reel Treats, Pumpkin Instant Wins and Creepy Candy Free-Spins. Here, an unsightly green Witch stands in watch outside the slot grid. Yet the hag is more of a boon than a bane. At some instances during a playing session, she will cast a spell on the reels to add 1 or 2 Wild Reels.
Take part in collecting Treats only; by spinning reels filled with images of Halloween revelers. An Ogre, a She-Devil, a Vamp and a Skeleton can land in any of 20 paylines as one-of-a-kind groupings. The Ogre is the top payer. It awards coin credits on as few as two (2) identical images that take positions in the first and second reels. Extended arrangements of 3, 4, or 5 Ogre images, also starting from the first and second reels, award 50, 200, or 500 coin credits.
To heighten possibilities of landing Ogre wins, the high paying icon appears as stacks of images in one or more reels.


This Trick or Treat? online casino offering may also bring Leander Game's much coveted Celebration Jackpot. The chances of triggering the Jackpot Icons though depend on the amount staked as Bets. Game Info specifically states that higher wagers can influence the possibility of setting off the Progressive jackpot elements.
Trick or Treat? Online Slot: Wild Symbol and Potion Wilds Feature
The Witch's bottle of Green Potion represents the Wild Symbol that can act as substitute token. It appears in any column, and therefore capable of forming its own winning payline arrangement. Similar to the Payouts of the high paying Ogre, coin credits of 5, 50, 200, or 500 are awarded when 2, 3, 4, or 5 Wilds, align in any payline.
The chances of landing on those top pays are boosted by a random Potion Wilds feature. That occurs when the Witch decides to add 1 or more full-reel Stack of Potion Wilds to the outcome a paid or free spin. Actually, it occurs as a constant Free-Spins Bonus feature as the Witch regularly adds Potion Wilds to outcomes of every bonus spin.
Trick or Treat? Jack o' Lantern Pick Bonus Game
The Jack o' Lantern image appears on Reels 2, 3, and/or 4 only. A paid or free spin that produces Jack o' Lantern images in all three (3) reels initializes the loading of a Pick a Pumpkin Bonus Game.
Nine (9) Pumpkins in varying colors are presented as choices. A Pumpkin reveals either a Voodoo Doll, a Bloodied Axe or a Witch's Broom. The objective is to complete a set of three (3) alike images by picking and clicking on any Pumpkin. The Bonus Game ends once a corresponding Coin Prize is awarded.
Trick or Treat? Creepy Candy Free-Spins Bonus Game
The Candied Apple Candle sets off a round of seven (7) free games, when such image appears simultaneously in Reels 1, 3, and 5.
The Bonus Round comes with a guarantee that all free-spins will result to a win or wins. To make this possible, the Witch adds one or two full-reel Stacked Potion Wilds to every free-spin outcome.