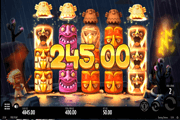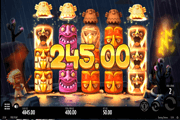 Turning Totems Online Slot: Bonus Wins from Thunder Reel Respins and Free-Spins Round!
Turning Totems is a colourful presentation of five (5) Native American Totem Poles, each one containing three (3) carvings of spirit guides. Used by Thunderkick as theme of a 5-reel online slot containing seven (7) diverse regular paying icons that individually and briefly rotates sideways. Once the Turning Totems cease to rotate, the images may line up as matched groupings along any of the 11 pay-pattern configurations.
The great news is that wins are evaluated two ways. A winning arrangement may start from the leftmost or the rightmost reel. This denotes that five-of-a-kind symbols pay twice the coin rewards. One is for the set of matching icons commencing from the first reel, and another for the set commencing from the fifth reel. The two-way win recognition system becomes more potent once the special Thunder Snake and Sleeping Wild totems come into view after a turning spell.


Turning Totems Online Slot: Sleeping Wild Feature
Take notice of a slumbering golden brown icon, as it represents the game's Sleeping Wild. When appearing under normal game conditions, matched groupings of the sleeping image award regular pays equivalent to 1/10 (0.10), 2/10 (0.20), or 4/10 (0.40) of the Bet staked per turn.
A Sleeping Wild stirs out of its dormancy if positioned in a column that transformed into a Thunder Reel. While in that particular reel, the awake-version of the Sleeping Totem becomes a wild card available to use as substitute symbol to complete or expand a winning payline combo. The rewards bestowed as payline wins are based on the corresponding payouts of the winning symbol.
In the event the awake-version of the Sleeping Wild itself forms a winning grouping of 3-, 4-, or 5-of-a-kind match, the coin wins awarded are much higher. Winning Sleeping Wilds correspondingly award Cash Credits equivalent to 2x, 5x, or 25x the current Total Bet.
But then one would ask, what is a Thunder Reel?
Turning Totems Online Slot: Thunder Snake Symbol, Thunder Reels, and Respin Feature
A Thunder Reel occurs whenever a special icon called Thunder Snake is in view. Represented by a depiction of a Snake with a body resembling a bolt of lightning, a Thunder Snake transforms a reel in which it is positioned, into a Thunder Reel.
Thunder Reel Respin Feature – Aside from turning any Sleeping Totem it holds, into an awake Sleeping Wild, a Thunder Reel also sets in motion a bet-free Respin. An additional respin may occur if the subsequent outcomes of the free turn include another Thunder Snake Symbol, as well as another Thunder Reel transformation.
Yet if after a respin, three (3) Turning Totems Reels transformed into three (3) Thunder Reels, the event initiates the launch of the Free-Spins Bonus Game.
Turning Totems Free-Spins Bonus Game – Once activated, the free round sets in motion five (5) Bonus Spins. Every Thunder Snake Symbol occurring after a bonus spin continues to turn any available column into a Thunder Reel. Once transformed into a Thunder Reel, it remains as such throughout the free bout.