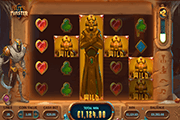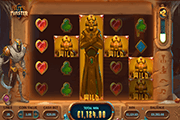 Tut's Twister Online Slot: An Egyptian Legend Has Risen to Bring Powerful Wilds!
Tut's Twister online slot by Yggdrasil Gaming spins an exciting tale about King Tutankhamun's resurrection; and of the powerful Twisters that came with it. The vortices though are more of a boon than a bane, as they bring on high-impact Walking Wilds. The risen Egyptian Pharaoh, demonstrates generosity in this 25-payline game. He awards Respins with Progressive Multipliers, Last Chance Respin, Final Respin and Mystery Prizes. All of which, give players additional chances of reaping multiple rewards via a single spin.
Although this game has no Free-Spins Round to offer as Bonus Feature, Respins carry on indefinitely. Free Rolls continue until all active Wilds have been sucked in by Tut's Twister. Moreover, the Mystery Prize Feature awards either win-boosting elements, or an instant Bonus Prize; augmenting winnings collected from Tut's Twister Feature.
Take note of the Hieroglyphs awarded at the onset of each game. The symbols are starters for the Hieroglyph Collection Feature. Completing a set of Hieroglyphs is one way of activating Tut's Twister Wilds.


Tut's Twister Online Slot: Wild Symbol
A depiction of King Tut's Sarcophagus represents the Wild Symbol of the game. It appears in any reel to render substitution actions that will complete a winning arrangement. Yet there is more to the Pharaoh's Sarcophagus Wild, as it may turn into a powerful Twister Wild Reel, or into a Walking Wild.
Players will witness and experience the rewarding impact of those Wild transformations once the Tut's Twister Feature activates.
Tut's Twister Feature
When a spin produces two (2) or more Wild Symbols in any reel, certain developments transpire to carry out the Tut's Twister Feature.
• First off, the reel containing the leftmost Wild will transform into a full-reel Twister Wild. Other Wild Symbols in view will become Walking Wilds.
• After which, all non-Wild Symbols respin to supply a fresh batch of icons. New Wild Symbols taking positions after a respin, will also linger and travel as Walking Wilds.
• After a Respin has been evaluated for additional wins, all Walking Wilds shifts to the adjacent position on their left. Position shifts continue until the Walking Wild reaches the Twister Wild Reel that sucks in all shifting Wilds.
• Respins continue as long as new Sarcophagus Wilds occur as outcomes; giving the new Walking Wilds free rolls with which they can travel toward the Twister Wild Reel.
• When a minimum of three (3) Walking Wilds are in view as one-time Respin outcome, the default 1x Multiplier will increase by one (1). A count of three (3) Wilds includes the Twister Wild Reel in the leftmost column.
After all Walking Wilds have been sucked in by the Twister Wild Reel, a Last Chance Respin automatically takes off.
Last Chance Respin is a free roll that follows the Tut's Twister Respins, once the reels are devoid of Walking Wilds. That extra spin may produce additional Walking Wilds that can prolong Tut's Twister Respins. If the Last Chance Respin does not produce any Wild at all, a Final Spin will be awarded.
Final Spin is the final turn that completes the Tut's Twister segment. As last hurrah, the Twister Wild Reel will release all Walking Wilds it previously sucked in; spreading them to random advantageous positions. This time, they land on reels as regular Sarcophagus Wilds and not as Walking Wilds
Tut's Twister : Hieroglyph Collection
Pay attention to the Collection Boxes located atop each Reel. The boxes fill with every Hieroglyph Symbols awarded by the Mystery Prize Feature. Once a reel completes its collection, it will produce Wilds that will bring on Tut's Twister and all its trappings.
Tut's Twister : Mystery Prize Feature
It takes only one (1) Sarcophagus Wild to unlock a Mystery Prize. The solo Wild transforms into a Mystery Wild that will reveal any of the following:
• A Hieroglyph Symbol to fill the Collection Box of the Reel that produced the Mystery Wild.
• Additional Sarcophagus Wilds that will activate the Tut's Twister Feature.
• Instant Coin Rewards in quantities ranging from 25 to 2500.
• No Prize at all.