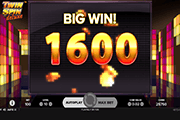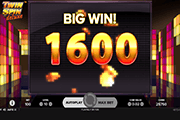 Twin Spin Deluxe : Grander, More Flexible Version of NetEnt's Twin Spin Content
Twin Spin Deluxe online slot presents a revamped version of NetEnt's earlier Twin Spin content. First off, the game board now contains 30 reel elements set in 5 rows, and divided into 6 spinning reels. Rather than offer different ways by which images can form a winning combination, this Twin Spin Deluxe edition has fewer requisites. Alike images need only to combine as a Cluster of 9 or more, joined vertically or horizontally in adjacent reels; and without need to commence from the leftmost column.
The original Twin Reel Feature still occurs as a random win-boosting event. Every Twin Spin Deluxe spin continues to produce two adjacent columns containing synced, or identical sets of images. At random occasions, any spin may produce more synced reels; expanding the Twin Reels to three or even up to six sets of synchronized images.
However, NetEnt's reinvention of this game took away the Wild Symbol offered by the original Twin Spin game content.

This Twin Spin Deluxe edition still has the same array of Vegas-style icons. The Diamond and the Number 7 Symbols remain as top paying elements. Both icons award 50 coin credits or higher, up to a maximum of 10,000, on 9 or more alike images forming a Cluster Win. The Bell and Cherries also share uniform pays on wins formed by their respective image; 20 credits at the least, and up to 5,000 at the most.
Twin Spin Deluxe Online Slot: Twin Reel Feature
Every roll of the reel is guaranteed to display a pair of Twin Reels. The positions on which the synchronized contents appear are always connected, but selected at random. During playing sessions, a spin may produce Twin Reels that expand. The expansion event may result to a grid filled with three, four, five or even six sets of synchronized elements.
The reels on which a pair of Synced Reels emerge are randomly determined. The Twin Reel expansion likewise transpires as a win-boosting event only on a per spin basis.
Twin Spin Deluxe: Betting Options
When deciding on the amount of Bet to stake per spin, players may opt to place ten (10) coins or more; or as many as 100 coins on each spin. The range of coin values available as choices is from 0.01 to 1.00.
Whereas the original Twin Spin video slot has a minimum bet per spin of 0.25, this Twin Spin Deluxe edition may run on bets per spin as low as 0.10 (0.01 x 10 coins). In terms of Maximum Bets, this Deluxe version has a slightly lower Max Bet per spin of 100.00 (1.00 x 100 coins), compared to the original's offer of 125.00 Maximum Bet.