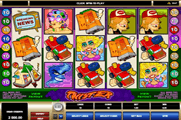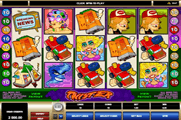 Twister Free Slots Review
Twister is tornado themed slot game that may not be quite what you expect when you first hear about it. This is closer to what the tornado that took Dorothy to Oz rather than the ones that you frequently hear about on the news causing destruction. The cartoonish images depict some of the more humorous aspects of this natural disaster, from a flying outhouse, pickup trucks in the air and, of course, a cyclone itself with a devilish grin on its face. So you better be ready to face the anger of nature through this video slot machine by Microgaming, Twister. The game comes with plenty of winning chances as well as many features and special icons that players can take advantage of during the game play.
This is a really good five reel slot game packed with all sorts of extras that make it more exciting and fun to win. There are fifteen pay lines, which is a good amount. You win more this way, and it's not so many that it's overwhelming and hard to follow. There are wild symbols as well, and free spins, and a bonus game that you can activate. There are no multipliers, but that's not really a big loss with so many other great features available. The wild icon is the twister icon which can substitute for other icons, across the reels and the lines of the game in order to help players in triggering a line payout. The video slot also comes with a scatter icon, which can trigger scattered rewards when players get from 2 to 5 scatters. That is not all what the scatter icon can give, this is because it can also trigger the free spins round which gives players the chance to spin the reels for free, with the same bet that was placed when the feature was triggered.

One of the really unique things about this slot game is the sound effects that they have added. Of course, you have the usual bells and whistles associated with all slot games, but there are some really fun other sound effects as well. These vary from thunder and lightning, heavy rain and howling winds. Of course, some people can only tolerate these for a short period of time, if at all, so they've included a handy mute button to turn off the sound effects. This is especially useful if you are listening to your own music in the background.