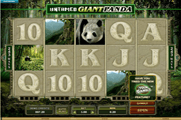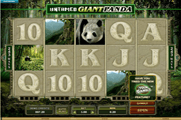 Untamed – Giant Panda Slot Review
Untamed Giant Panda slot belongs to Microgaming's successful video slot series "Untamed". This is the second game in the series that followed the release of Untamed –Bengal Tiger and it was followed by Untamed – Wolf Pack. This game has five reels and offers players the 243 ways to win format.
The game is based around the endangered species, the Giant Panda. This animal lives in the Chinese mountains in lush Bamboo jungles. The game's symbols are all inspired by that theme.
The game has four special and unique features. The first one is the Collect-A-Wild. Whenever a wild symbol appears on one of the reels, a wild token will be added to the counter of that reel. When players collect four tokens in one reel, the entire reel will turn to a wild reel for four spins which helps players create winning combinations.
The second feature is called Brilliant wilds. This Brilliant Wilds feature is triggered during the free spins round. Whenever a wild appears on a reel, it will stay there during the entire cycle of free spins.
The third feature is the Lucky Budge. When players get three or more scatter symbols, which is the Panda Eye, they will be able to claim up to ten free spins. Players can utilize the Lucky Nudge feature to nudge specific reels if the eye is peeking or visible at the edge of a certain reel.
Click the Image to Play the Fun Play Version
Players can earn up to 1,800,000 through free spins. The last feature is the Your Gamble feature. This feature enables players to gamble what they have won in a gamble game of prediction and luck.
If you are a slot guru, or someone who plays online slots often than chances are you have come across the Untamed series from Microgaming. This series has had immense success. It started with the quite popular game called Untamed – Bengal Tiger. Microgaming saw the success from that and here came Untamed – Giant Panda, which is the one we will discuss today. There's even more untamed fun. The Wolf Pack game came along as well. So, when playing slots choose your favorite animal and go along with that. For those of you who love pandas, Untamed – Giant Panda is sure to be hours of slot spinning fun! This free slots game offers a lot of bonuses which is what really sets it apart from others.
The Giant Panda is an endangered species, but not in this game! With every spin you will feel like you are living in the Chinese mountains, experiencing all that the Great Pandas have to offer! All the themes you see within the spins stem around this jungle and panda theme. This game has the standard of 5 reels, but there is something super exciting for players in this game. Players have 243 different ways to win and test their luck! The odds are definitely in the players hands in this one.
This game provides many ways to win, and many opportunities for bonuses! When playing this game, you want to keep your eyes peeled for a wild symbol! These are literally hold. When one of these appears, a wild token is added. When a player gets four of those tokens In a single reel, that whole reel will turn into a wild one for four whole spins! Players then can have the time of their life by creating combinations that are winning. There is another great feature called brilliant wilds. These ones show up during the free spins round. When one of these brilliant wilds spear on a reel, it then will stay there for the whole free spin cycle. That means there is plenty of time and opportunity to get lucky!
Finally this game has something called the Lucky Budge. The player should try to get more than three scatter symbols. This is because they will then be able to claim not one, not two, but ten free spins!
Untamed Giant Panda does one final thing that helps it go above and beyond the other games. Untamed Giant Panda has a feature called Your Gamble and it's literally what it says. The choice is yours with this feature. A player can gamble everything that they've won so far in a game of sheer luck! It's a lot of fun for people. If you win, hooray. If you lose, oh well.
Overall, this free slots game is a lot of fun for all. It's great for the animal lovers out there as well as those who are a fan of the other ones in the series. It has a lot of fun bonuses that will keep you on the edge of the seat. Give it a shot today, and if you are feeling brave – try your hand at the Your Gamble!