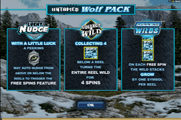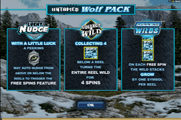 We welcome you to Untamed Wolf Pack – the third track of Microgaming's Untamed series. In this machine, we are out in the freezing wilderness along with a pack of wolves, and here are just howling at the moon and hope that profits will flood towards us like cascades of moonlight! Play Untamed Wolf Pack free here or check out the bonuses and try for real money!
In the third machine in Microgaming slot game series Untamed we get acquainted with the slot machine Untamed Wolf Pack, and as you can see from the title, the wolves are in the center of focus this time. We get a trail that follows the show's tight direction, but we also get a new wild feature complimentary round game, just like in the previous two machines Untamed Bengal Tiger and Untamed Giant Panda.

One of the popular features that was discontinued is the Collect a Wild which allows us to collect wild symbols on a wheel in small boxes under each wheel. Once you've had a wild symbol four times on the same wheel this wheel is an expanded in all four spins. An expanded wild means that the wheel is a wild symbol, which increases profit opportunities greatly. Wild symbol acts as a wild card in general, and can be combined with all standard symbols.
Also in Untamed Wolf Pack, players have a chance to win free spins, which we do by getting three scatters in a random position on the reels. You win 10 free spins no matter how many scatters you get and it is a bit unfortunate because more scatter should be fired rounds. Do you get a "peek" scatter, it's just part of the scatter is over or under a wheel, while there are two scatter symbols on the reels from the past, this "peek" Scatter nudge (move) up or down so that it is completely visible on the wheels, thus giving us free rounds. This function is called Lucky Nudge.
As in other games in the untamed series, the biggest difference in wild features that we find is in the free rounds of Untamed Wolf Pack and is called Running Wild. Running Wild is a very special function that is a little hard to explain. For each draw, the number of wilds appearing on the reels to grow – with a wild day. round – and will serve as stacked. That they act as stacked meaning you can see blocks of wilds on the reels as they spin, and for every spin that goes into these blocks to grow and can be up to 13 wilds. The free spins will start wilds in blocks of three symbols, and for each round they grow in other words with a symbol. One can therefore see to get more wheels covered wilds simultaneously, providing great benefits!