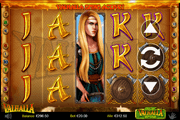 Valhalla Online Slot: Betting Options Determine Valhalla Spins Optimizer
Valhalla online slot by BetDigital/NextGen Gaming, is a 10-payline icon-matching game that pays for wins regardless of where a series of identical symbols commences. Whether starting from the leftmost, rightmost, or middle reels, groupings of 3, 4, or 5 matched images positioned consecutively within the confines of a pay pattern are evaluated as wins. To boost chances of striking wins, a Viking Shield Maiden randomly appears in Reel 3, functioning as Wild card that can represent any symbol.
Actually, the Viking Shield Maiden is the only special symbol of this game; but it could turn into an Expanding Wild if a player is willing to raise the bets staked per spin. In addition to the Expanding Wild feature, higher bet levels also bring on a respin or up to 4 respins; albeit depending on the betting option take. Clicking on the Valhalla Spins button will reveal the different wagering choices and the corresponding power up features incorporated as spin optimizers.
Valhalla Online Slot: Betting Levels and Options
A regular Valhalla spin can be activated by staking a coin value to cover all 10 paylines with each spin. The standard Bet Values range from as low as 0.10 per spin (0.01 per Line x 10 lines) to as high as 200.00 per spin (20.00 per Line x 10 lines). Players should keep in mind though that the coin value staked per line (0.01 to 20.00) and not the Total Bet wagered per spin, multiplies coin credits earned from payline wins.
Valhalla slot players have four other betting options, all of which activates the Expanding Wild and/or the Respins feature. Not all Respins though is configured to continue if it produces another Wild-completed winning arrangement.
Bet Level 1 – A Valhalla Spin costs 2x the standard bet selected, while the Reel 3 Viking Shield Maiden Wild Expands if its occurrence strikes a win.
Bet Level 2 – A Valhalla Spin costs 4x the standard bet selected, while a win that involves the Expanded Shield Maiden Wild will spawn a respin. Now the respin is limited to only one per Valhalla Spin even if the outcome created another win.
Bet Level 3 – A Valhalla Spin costs 6x the chosen standard bet, while a win involving the Expanded Viking Shield Maiden Wild can launch another respin if the free turn results to another win. The number of respins though is limited to 2, even if the second free-turn results to a new win.
Bet Level 4 – A Valhalla Spin costs 8x the standard bet selected, while an Expanded Viking Shield Maiden Wild-Win is capable of launching up to three (3) successive respins.
Bet Level 5 – A Valhalla Spin costs 10x a Standard Bet, while an Expanded Wild-Win is allowed to launch up to 4 respins on a succession of win-events. In addition to the Expanding Wild and 4 Respins Features, a progressing Win Multiplier applies to each successive win.
Winnings gained from the first respin will be appraised at 1x the value of the related prizes won. If the first respin launches another turn, any resulting wins will double. If the 2nd respin leads to a 3rd and a 4th respin, a corresponding Win-Multiplier of 3x, and 4x will increase the prizes won on the related respin.
Valhalla : Expanding Wild and Respin Feature Activated by Valhalla Spins
Valhalla online slot offers Expanding Wilds and Respin/s as power up features but comes with extra costs. The broader the capabilities of the Expanding Wild in boosting the outcomes of a Valhalla Spin, the greater the Bet Value required as wager per spin.