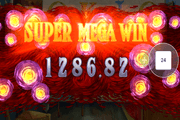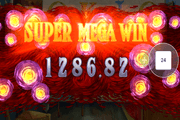 Van Gogh Online Slot : Build Your Free-Spins Round by Collecting Color Splashes During Paid Spins
Van Gogh online slot by STHLM/Relax Gaming presents a refreshing 20-payline online game. It showcases image resembling some of the artworks of famous Dutch artist, Vincent Van Gogh. This game focuses mostly on Van Gogh's still life paintings, whilst using his famous self-portrait as Wild Symbol. In fact, one of the most significant events that transpires in this game, is the emergence of Van Gogh Wilds. Those are instances when a cluster of 2, 4 or 9 Van Gogh Wilds land on adjacent positions.
The Wild Cluster is just one of two rewarding events to await. The other is the activation of a Free-Spins Round that players can build, while waiting for 3 or more Bonus Symbols to appear. A base game aspect called "Color Splash Feature," serves as preliminary groundwork for enhancing a forthcoming free round. It entails collecting 4 different Color Splashes in order to garner win-boosting elements as future bonus features. Every collectable Color Splash represents an attribute. The greater the number of Color Splashes collected, the higher the number of enhancements applicable in a bonus game.


Van Gogh Online Slot : Brush Strokes Wilds
During a random ongoing base game spin, overlays of Van Gogh Self Portraits will appear to cover 2 up to 9 adjacent positions. Such an event will therefore heighten chances of hitting multiple winning combinations completed via Wild substitutions.
Overlay Wilds may emerge as a cluster of 2, 4 or 9 Van Gogh Portrait Wilds, positioned next to each other in adjacent rows or reels. WILD Symbols though, even if configured to appear in any spot, cannot form a winning payline arrangement. They are not usable either, as eligible substitute icons for the Color Palette Bonus Symbol.
Van Gogh Online Slot : Color Splash Collection
This feature is also a base game exclusive. Pay attention to four (4) mini Color Splashes affixed on random symbols that land as spin outcomes. Splashes come in Purple, Orange, Green and Blue. Each Color Splash that emerges, subsequently transfers to a corresponding Color Collection Counter located on the left side of the slot screen.
The moment a paid spin yields Color Palette Bonus Symbols that will activate a free round, the Color Splash Collection will likewise unlock bonus game features.
Take note that changing bet values in between spins will cause the resetting of the Color Collection Counter. Once a free round activates, the bet value used in collecting all features will then prevail as bonus-rewards basis.
Color Splash Bonus Features
The type and extent of features added as bonus round enhancers are dependent on the number of Color Splashes collected.
Purple Color Splash adds 1 Extra Free-Spin, to which a maximum of 11 can be amassed before a free round sets off. That being the case, a maximum of 15 free-spins can be won.
Orange Color Splash represents a +1 increment to the default 1x Win-Multiplier. Aim to collect as many as 6 Orange Splashes in order to enhance a bonus round with a 7x Win-Multiplier.
Green Color Splash is a Wild Symbol Booster, guaranteeing the emergence of Self Portrait Wilds on every bonus spin. The number of guaranteed Bonus Round Wilds depends on the number of Green Splashes collected before the free round activated. Still, up to 5 Guaranteed Wilds can be garnered via a Green Splash Collection.
Blue Color Splash causes the removal of a low-win symbol as potential outcomes of a bonus round. The number of icons eliminated depends on the number of Blue Splashes collected. All of which, works toward the elimination of the J, Q, K and A Symbols, in that particular order.
Van Gogh Online Slot : Free-Spins Bonus
Images of a Color Palette represent the Free Games trigger symbols. Once a scattering of 3 or more of the icon comes into view via a single spin, the Free-Spins Bonus Round activates. This feature automatically generates four (4) Free-Spins, which may increase based on the number of Extra Spins collected thru the Purple Splash.
All other win-boosting features unlocked via the Color Splash Collection, will then transpire as optimising features of that particular bonus round.