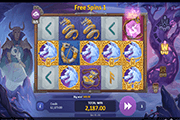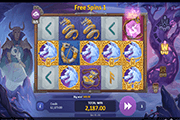 Viking Gods Thor & Loki : Two Free-Spins Modes to Trigger, Both with Progressing Wilds!
Viking Gods Thor & Loki online slot by Playson pits the powers of two (2) popular Norse Mythology deities, by way of two (2) Free-Spins Bonus Modes. Thor the God of Thunder battles the gruesome Serpent Jörmungandr, which may grow into a Colossal Wild. On the other hand, Loki, the Trickster God manifests his powers by adding Sticky Wilds with locking and unlocking mechanisms.
Both Free-Spins Bonus Modes activate if a full-reel Thor or Loki image is in view. Yet that is only one of several ways by which the free round can be won. During reels-spins, certain outcomes count as achievements that work toward the activation of a bonus round.


Viking Gods Thor & Loki : Achievements Feature
Certain win-events count as Achievements when meeting a specific number of their occurrences. A small Achievements Counter located at the top left of the screen, keeps track of such events. Viking Gods Thor & Loki players will gain instant entry to a Free-Spins Bonus Round, if at any point during a playing session, they complete any one of the following Achievements:
• Winning a 5-of-a-kind payline combination for 30 times.
• Landing a segment of a Thor or Loki Bonus Symbol for 30 times.
• Collecting a Payout equivalent to 30x the Bet via a single spin for 5 times.
• Activating any Free-Spins Round for 15 times.
The Achievements Counter though works collectively, as completing one will reset the counter.
Viking Gods Thor & Loki Online Slot: Wild Symbols
An uppercase "W" represents the regular Wild Symbol that emerges in the base game reels. Since it takes position in any reel, the "W" Wild can complete a regular payline win. Three, four, or five "W"s lining up as matched combination in any payline, award 1.33x, 4.33x, or 10x the Total Bet.
In any Free-Spins Mode, the World Wild Serpent and the Wolf Wild of the Thor/Loki Free-Spins, garner the same payouts when those symbols form a winning payline arrangement.
Viking Gods Thor & Loki : Bonus Symbols
Landing a full-reel Thor or Loki image in Reel 3 activates the related Free-Spins Bonus Round. Aside from gaining Achievement Points with every segment of a Thor or Loki Bonus Symbol that comes into view, such occurrences also bring on Wild Symbols as follows:
• A 1 x1 segment of a Bonus Symbol adds 2 "W" Wilds on the leftmost reel.
• A 2 x 1 segment adds 4 "W" Wilds across the reels.
• A full-reel, 3 x 1 Image sets off the corresponding Free Games.
Viking Gods Thor & Loki : Free-Spins Round
A round of Thor or Loki Free Games plays 10 Free-Spins. Each Bonus Game Mode comes with a shimmering version of the Blue or Pink Crystal icon. The emergence of those images in their respective bonus reels work toward the progression of the featured Wild Symbol. In both Free-Spins Modes, every Progress Bar Level completed by Blue or Pink Crystals, awards 1, 2, 3 additional Free-spins correspondingly.
Thor Free-Spins Round and Growing World Wild Serpent – At the start of a Thor Free round, the World Wild Serpent emerges in standard 1 x 1 form. The great news is that each Thor Bonus Spin guarantees at least one (1) Serpent Wild in any reel. The substitute symbol can grow into a colossal 3 x3 proportion by way of the Blue Crystal Collection Feature.
Each Blue Crystal fills up the Progress Bar on the left side of the screen. Collecting five, completes one Bar Level. This in turn will increase the size of the Wild Serpent to a 2 x 1 image. Thereafter completing the second and third Bar Levels will increase the Wild Serpent's size to 2x 2, then to the 3 x3 Colossal Wild Serpent.
Loki Free-Spins with Sticky Wild Feature – The shimmering Pink Crystal of this Bonus Round fills up the Progress Bar on the right side of the screen. Similar to the Thor Blue Crystal, it takes five (5) Pink Crystals to fill up a Bar Level. Completing the first Pink Crystal Bar Level releases one (1) Sticky Wolf Wild. The Wolf Wild locks in place, but unlocks when it completes a winning combination.
Still, additional Sticky Wilds appear as soon as the Pink Crystal Symbols fill the second and third Progress Bar Levels. The second Progress Bar releases a Sticky Wolf Wild with 2 locking mechanisms, while the third Progress Bar releases two (2) Sticky Wilds with 2 locking mechanisms.