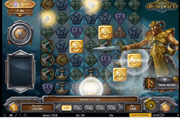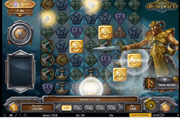 Viking Runecraft : Cascading Wins Trigger Power-Up Features, Wild Enhancers, and Free-Spins!
Viking Runecraft by PlayNGo uses the Cascading Reels engine in creating an online slot that incorporates crafting approach to triggering Power Up Features. Containing 7 rows of Norse Deity-themed images segmented into 7 columns, the grid houses reel elements such as Hammers, Axes, Helmets, Necklaces, and Rune Stones that generate wins without need to follow a pay pattern. A cluster of at least five (5) identical images, bundled together horizontally, vertically or diagonally in adjacent reels, completes a paying arrangement.
Pays are not awarded immediately because the winning symbols disappear, creating gaps into where icons from above cascade; possibly striking new wins. If such is the case, the disappearing and cascading actions continue until no more win occurs. At that point, it is only then that all cash prizes due on the spin that triggered the series of wins will be awarded. In addition to the payouts, the wins occurring in those series of events, may trigger a Charge of Destruction Power-Up feature, and/or the Ragnarok Free-Spins.


Actually, more can be expected from this Viking Runecraft slot, as the four (4) featured Norse Mythological Deities individually and randomly awards a Gift of the Gods Wild-Win booster. Clearing a special Pattern and collecting Rune Stone Wins enable players to Level Up and possibly receive Instant Bonus Wins via the Valhalla Bonus Wheel.
Viking Runecraft Online Slot: Wild Symbols and Gift of the Gods Feature
The four (4) Divinities, namely Thor, Odin, Freya and Heimdallr appear as Wild Symbols, but only if the Norse god or goddess is in charge of a specific Game Level. At random occasions after a spin, the featured deity may endow a Viking Runecraft player with a special Wild-Win booster.
Thor – strikes the reels to replace five (5) up to nine (9) random symbols with Thor Wilds.
Odin – creates up to two (2) clusters of additional Odin Wilds.
Freya – is more generous, as she brings on up to four (4) clusters of Freya Wilds.
Heimdallr – applies strategy, as this deity adds one (1) Heimdallr Wild in each of the seven (7) rows.
Wild Symbols of any type are quite significant especially when occurring in multiplies. Wilds after all can complete multiple symbol-wins that power up the Charge of Destruction Meter, and/or trigger other Viking Runecraft Bonus Rewards.
Viking Runecraft Online Slot Charge of Destruction Features
Every winning combination occurring during a series of Cascading Wins, counts as a collectible point that energizes the Charge of Destruction Meter. Collecting 20 points in all during a succession of Cascading Wins arbitrarily sets off one of the following Charge of Destruction Features:
The Fury of Fenrir – powers up the reels by selecting four (4) random diagonal lines. The symbols in two (2) of the four (4) lines selected disappear, while the symbols in the other two (2) chosen lines will transform into groups of identical images.
The Judgement of Jörmungandr – carries on with symbol removal and replacement actions by selecting icons lined up from end to end of the grid.
Scorching of Surtr sets fire on a cluster of adjacent symbols in order to remove and replace random icons with identical images.
Lure of Loki -selects two (2) differing icons. One of the symbols selected represents the type of icon that will be taken out of the reels. The other designated symbol poses as the symbol that serves as one-of-a-kind replacements for the removed icons.
Viking Runecraft Online Slot: Ragnarok Free-Spins
If a Charge of Destruction Feature is instrumental in immediately charging the Meter anew, a Ragnarok Free-Spin is awarded. If that free-spin also results to wins that immediately double charges the Meter, Ragnarok Free-Spins will play all four (4) Charge of Destruction Features, one after another. During the Ragnarok Free-Spins, successions of Cascading Wins continuously powering up the Meter with 20,40, 60, and 80 symbol-wins will bring on win-multipliers of 2x, 3x, 5x, and up to 15x, respectively.
Viking Runecraft Online Slot: Valhalla Bonus Wheel Game and Level Up Feature
Take note of the Special Pattern displayed alongside the Norse God/Goddess standing next to the slot screen. Completing a current game level, in order to advance to the next stage, requires striking symbol-wins in positions similar to those presented by the Special Pattern.
Viking Runecraft players entering the next Game Level may receive a Level-Up Bonus Win via the Valhalla Bonus Wheel Game. The Bonus Wheel awards wins during the level-up stage, if corollary Rune Stone Wins have energized at least one of the Rune Stone icons displayed above the Charge of Destruction Meter.