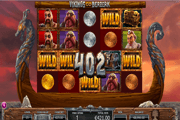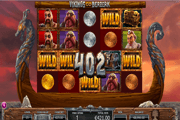 Vikings Go Berserk – Yggdrasil's Vikings are Back, Bringing More Sticky Wilds via the Berserk Mode!
Vikings Go Berserk online slot, sequel to Yggdrasil Gaming's Vikings Go Wild title brings back the seafaring Norsemen in another daring adventure. This time, the Free Game presents battles with an Evil Siren that could turn a victorious Viking into a Sticky Wild. Actually, there is a great chance for all Vikings to turn into Sticky Wilds when all four Vikings icons go on the so-called Berserk Mode.
In this game, there are several ways by which Free-Spins can be activated. One is by filling up the Vikings Rage Meter, or by landing on a Free-Spins trigger combination. A set of free games can also be won as random prize of the Treasure Chest Feature. The main bonus round feature, the "Ragnarok Free-Spins" in which all Vikings go berserk, is viable via the Golden Treasure Chest.
[/CBC]

Vikings Go Berserk Online Slot: Vikings Rage Meter and Berserk Mode
Three robust Norsemen and a formidable-looking Shield Maiden make up the ship crew that is about to do battle with an Evil Siren.
Each character has a Viking Rage Meter on display below the base game reels. A Rage Meter fills up every time the related image hits a payline win. Once the meter is full, seven (7) Free-Spins will be awarded. In that particular round of free games, the Viking icon that triggered the feature is in Berserk Mode.
The Berserk Mode is a Viking Symbol free-spins attribute. As every free round depicts a battle between the Norsemen and the Evil Siren, a Viking in Berserk Mode is always guaranteed to emerge as victor. This denotes that the featured Viking Symbol constantly emerges as a Sticky Wild during the free games.
A Vikings Go Berserk game activated for the first time will start with one Viking Rage Meter already filled by more than 50 percent.
Vikings Go Berserk Online Slot: Free-Spins Bonus Round
A tile bearing the image of a Siren, and labeled as Free-Spins may appear in any reel. Three, four, or five of those icons will launch the Viking Ship in another free-spins adventure. Seven (7), fourteen (14), or twenty-one (21) Bonus Spins will be awarded based on the number of Free-Spins Symbols that initiated the round.
Here, every Viking icon has a chance of becoming a Sticky Wild. When the featured Viking wins a chance encounter versus the sea hag, that particular Viking becomes Wild and Sticky throughout the round.
Vikings Go Berserk Online Slot: Treasure Chest Rewards Feature
If after a base or bonus spin, Reel 4 returns with a Treasure Chest image in view, a Vikings Go Berserk player stands to receive one of five Bonus Rewards in store. If produced by a base game spin, the rewards include Coin Wins ranging from 50 to 1000, or Bonus Spins numbering anywhere between 7 and 21.
In the event a Treasure Chest icon emerges in Reel 4 while playing bet-free, the five (5) Bonus Rewards available include, 2 up to 4 additional Bonus Spins, a Wild Reel, or one (1) up to two (2) Extra Wild Reels.
Vikings Go Wild Golden Treasure Chest Rewards Feature
Reel 5 is configured with a Golden Treasure Chest, promising greater rewards once it appears after a base or bonus spin. Golden Treasure Chest Base-Game Rewards include Coin Wins ranging from 250 up to 10,000, regular free-spins of 7 to 21, or entry to the more potentially lucrative Ragnarok Free-Spins Round.
If triggered by a bonus spin, the five random rewards of the Golden Treasure Chest include 2 up to 4 additional Bonus Spins, a Wild Reel, 2 Extra Wild Reels, and 250 up to 10,000 coins.