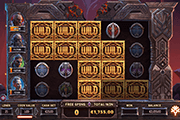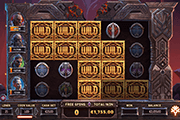 Vikings Go to Hell Online Slot: Rake in Big Wins via Respin and Multi Free-Spins Features!
Vikings Go to Hell online slot, the third of Yggdrasil Gaming's Viking-themed contents, brings 25 paylines built within a 4×5 grid. Here, three (3) dauntless Norsemen and a Shield Maiden embark on an exploration that will bring them to the depths of hell. During base game voyages, Demons appear whenever 2 or more Free Spins Symbols come into view.
In those instances, a Viking who succeeds in vanquishing a Demon turns into a Sticky Wild Symbol.
The duration of a battle depends on the number of Free-Spins icons landing as spin-outcomes. Two (2) Free-Spins set off a Demon-Fight that leads to a Respin. On the other hand, three or more Free-Spins activate a longer battle; transpiring in about 7 or more Free Games.
Take notice of the Rage Meters provided for each Viking. Collecting 100 Rage Points for every Viking, will fire up the character; setting him or her in a Berzerk Mode. A Viking that transitions into Berzerk Mode always emerges as a victor during a Free-Spins Battle.


Occasionally, a Treasure Chest appears in Reel 5 to award a random bonus prize, including a standard set of free games. Regardless of how a bonus round triggers, it is important to defeat the demon in order to advance to a higher level. Doing so, gives players a chance to face the final Demon Boss Lucifir.
If a player succeeds in vanquishing Lucifir, a 3x Multiplier will increase all free-spins winnings garnered in all levels.
Vikings Go to Hell : Base Game Demon Battle with Respin Feature
A paid spin that produces two (2) Free-Spins Symbols will attract Demons. They may attack any Vikings present across the game board. However, before letting the Demons enter the play area, the game will first appraise any winnings attributable to the original outcome.
Wild Transformations – Watch closely when a battle transpires in a 1×1 frame. If the cornered Viking emerges as a victor, it will undergo transformation as a Wild Symbol. This feature may bring on more than one Demon Battle, which may or may not result to a Viking Victory.
Respin Feature Upon culmination of all occurring battles, a Respin launches. All Wilds stay locked in place; boosting possibilities of striking one or more payline wins via the free roll.
NOTE: A Viking who wins a Demon Battle, also earns one (1) Rage Point.
Vikings Go to Hell Online Slot: Berzerk Mode and Free-Spins Features
Any Viking may earn special fighting skills when it attains a Berzerk Mode. Such feat can be accomplished by earning 100 Range Points during spin sessions.
Range Points are earned at a rate of 1 Rage Point per Victory. Nonetheless, the grid occasionally brings out a Treasure Chest that may boost all Rage Meters with 30 Rage Points.
Berzerk Mode – When in Berzerk Mode, a Viking becomes undefeatable. He or she will emerge triumphant in all Demon Battles. Still, a Viking in Berzerk Mode does not earn Rage Points during Free-Spins Demon Battle.
Berzerk Free-Spins – A Viking who completes a 100-Rage Point collection, activates seven (7) Berzerk Free-Spins. The groundwork of this feature is mainly structured as a longer Demon Battle that occurs via seven (7) free turns.
Vikings Go to Hell: Free-Spins Demon Battle
All Vikings go to hell once a set of 3, 4 or 5 Free-Spins Symbols land via a single spin. The vessel plunges into a bottomless pit where they will encounter greater demonic forces.
Based on the number of Free-Spins activating a bonus round, Level 1 Demon Battle will transpire by way of 7, 12, or 16 Free Spins, respectively.
Level 1 Free-Spins: Vikings Battle the Lord of Chains
The rules of engagement and rewards of Level 1 Free Spins are similar to Berzerk Free-Spins. Except here, defeating the Lord of Chains will advance the game to Level 2 Free-Spins. The game board resets by removing all existing Sticky Wilds; whilst putting in place two (2) Sticky Wilds in random positions.
Level 2 Free-Spins: Vikings Battle Lucifir
Vikings will wage a battle against Lucifir by way of two (2) Free-Spins. If this bonus stage results to a victory in favor of the Vikings, a 3x Multiplier will increase all Level 1 and 2 Free-Spins winnings.