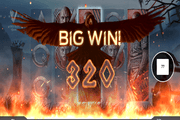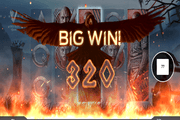 Vikings Online Slot : NetEnt's Hotspot Wields Another Win-Influencing Feature
Vikings online slot by NetEnt takes players along in one of Ragnar Lothbrok's marauding expeditions. Built in a 3×5 grid with 243 win-ways, this video slot was created under license of A&E Television Networks, franchise holder of the Vikings TV series and its iconic V Logo. On that note, aim to strike winning combos via V Logos, being the highest paying element of this game.
Ragnar together with his Shield Maiden wife Lagertha, his first born Bjorn Ironside, and his ship-builder friend Floki,  land on reels as high-win images. The thrills of a Vikings online slot adventure can be experienced by way of a Hotspot Zone. The latter is a reel that can transform all Viking characters in view, into a single type of high-win Scatter element. As Scatter icon, a Hotspot icon can deliver winnings without need to align in adjacent reels; or organise in accordance with a prescribed win-pattern.
Potency of the Hotspot Feature intensifies in free rounds, because the bonus game grid has 3 Hotspot Zones. Naturally, the additional special areas will heighten chances of hitting big bonus wins through a scattering of one-of-kind Viking images.


The great news is that NetEnt incorporated an alternative feature that can bring on multiple tiles of a single type of high-win Viking character. This game uses the the impressive Shield Wall defense tactic in delivering Mystery Symbols. The revealed identical symbols though must align in consecutive reel starting from the leftmost column, in order to earn payouts.
The trade-off for the Hotspot and Shield Wall Features, is the absence of a Wild Symbol. Nonetheless, the 2 special elements may prove as equally, if not more effective in boosting win-chances, as the traditional Wild Symbol.
Vikings Online Slot : Hotspot Zones
During base game plays, spins launch 5 reels with 3 layers of assorted icons. The middle or 3rd Reel is special because it serves as a Hotspot Zone. In order to activate the win-boosting attribute of the Hotspot Feature, any Viking character must emerge in the highlighted reel as a full image, entirely covering the 3rd Reel.
The Hotspot Feature will then replace all other Viking images present in the grid, with icons of the Viking character displayed by the Hotspot Reel. The one-of-a-kind images will then earn payouts as Scatter Symbols, garnering pays regardless of positions or formations.
Vikings Online Slot Free Games
Look forward to landing 3 Shield images labeled as Raid Spins, in Reels 3, 4 and 5 via a single paid spin. Such an event initialises seven (7) bet-free Raid Spins that roll out 7 Reels with 5 layers of varying icons.
Of the 7 columns, Reels 3, 4 and 5 are designated as Hotspot Zones. The 3 Reels will unlock the Hotspot Feature, if any returns with the prescribed full-reel Viking image.
In addition to the Hotspot Zone, the Shield Wall Feature may also transpire during free rounds.
Vikings Online Slot : Shield Wall Feature
After a spin outcome has been evaluated, 6 up to 10 Shield images appear to cover adjacent reel positions. Covered areas vary in base and bonus games. A Shield Wall, transpiring at random after a base game spin, may come by way of a 3×2 or 5×2 block of reel positions. In free rounds, a Shield Wall may cover a 4×2, 5×2 or 5×3 segment of the much larger bonus game grid.
Thereafter, the Shield Wall will reveal multiple tiles of a single type of Mystery Viking character; likely to yield additional wins on the spin that triggered the feature.
The Shield Wall feature though will not activate if the Hotspot Feature just transpired on a spin.