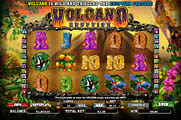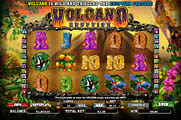 Volcano Eruption Free Slot
Travel to an exotic tropical island with Next Gen Gaming through this wonderful gaming experience, Volcano Eruption. Players will not only do this to experience the exotic adventure as this island has a volcano that is about to erupt, this is why the slot machine is named volcano eruption. Players will go deep into that volcano as it is erupting so they can get to claim their own share of the great fortunes and treasures that are found within.

The Free Slot Experience
Players will do that through this video slot machine, its 5 reels and its 25 paylines. Players will be able to place their desired bets on all of these lines at the control panel that is located under the reels of the game. They will then start to spin the slot's reels so the symbols can begin to form combos on the lines and start earning payouts.
The game also has a wild icon which is the volcano. This icon can replace all other icons to help players in getting paid by forming the highest possible combo. There is also the volcano eruption bonus round that is also triggered by the wild volcano as well as generous scatter pays.