User Rating: Be the first one!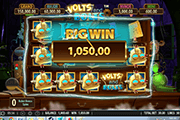 Volts and Bolts Online Slot: Collect Bonuses via Special Robot Bonus Spins and Regular Free-Spins Features
Volts and Bolts online slot by WMS/ Scientific Games (SG Digital), provides 50 paying lines, and two Free-Spins Features. Those major game attributes, make betting on chance outcomes, well worth the risks. After all, this is a Jackpot Game in which four (4) Jackpots: Mini, Minor, Major and Grand , are stake; respectively awarding a cash value pegged at 20x, 100x, 2000x or 5000x the Total Bet.
Cartoon graphics presents a sci-fi plot about a Scientist obsessed with building Robots. If six (6) or more of his Robots spread across the grid in any positions, players get to play a mini free-spins round. Robot Spins produce only Robot images that work toward amassing hefty bonuses, including one or more Jackpots The Scientist himself can trigger a regular free-spins round. His free games play on a grid in which only Wilds and Scientist Symbols emerge in the middle reel.
It is even possible to trigger both Robot Spins and Regular Free-Spins via a single spin; to which the Robot Spins play first before the free round launches.
Naturally, it may take awhile before one lands on Robot Spins and Scientist Free-Spins trigger-combos. Nonetheless, regular base game spins are optimised with Wild Symbols, albeit emerging only in Reels 2, 3, 4 and/or 5. Nonetheless, Wild Symbols appear frequently, sometimes as stacked icons in one or more reels.
Volts and Bolts : Robot Spins Jackpot Game
Another image that usually emerges in stacks in one or more columns, is the Robot. The stacked configuration works well in heightening chances of setting off the Robot Spins Jackpot Game. The latter requires a minimum of six (6) Robot tokens to activate five (5) Robot Spins.
Landing on more though, increases the number of Robot images that can strike high-value wins; including one or more of the four (4) Volts and Bolts Jackpots.
During the Robot Spins Round, all such icons triggering the feature locks in place throughout the free run. Any that emerges thereafter also locks in place, likely filling up large contiguous portions of the grid. In such events, the Robot icons transform into a larger block of image.
At the end of the Robot Spin Round, the large images and scattering of Robot icons will be evaluated for payouts as follows:
Robot Spins Pay-Schemes
An enlarged Robot icon, comprising 4 up to 6 positions of Robot tokens, awards either the Mini and/or the Minor Jackpot/s. If 4 up to 6 Robot tiles are spread across the special grid, the collection may garner up to 20x the Total Bet at the end of the brief bout.
In the same way, huge Robot images occupying 6, 8, or 10 reel positions may award either the Mini and/or Minor Jackpot/s. The large image plus any number of Robot tiles in view, may correspondingly pay up to 40x, 80x or 100x the Total Bet.
Giant Robot images consisting of 10 or 12 reel positions can bring on the Minor and/or Major Jackpots. Upon completion of the mini bonus round, a scattering of Robot icons ranging in those numbers, correspondingly award up to a maximum 150x, or 250x The Total Bet, respectively.
Locking in 12 up to 15 Robot icons anywhere in the play area can draw out a sum of up to 750x the Total Bet as bonus win.
In the event fifteen (15) Robot icons fill up the entire grid, the Colossal Robot image unlocks the Grand Jackpot that awards 5000x the Total Bet.
This Robot Spins feature ends after all 5 free turns have rolled; or, if the entire grid has been filled with a Colossal 15-tile Robot image.
Volts and Bolts Online Slot: Free Games
A conventional round of free games activates when three (3) or more Scientist images land simultaneously on any spot. Regardless of the number of Scientist icons in view, a free round consists of twelve (12) Free-Spins.
Yet the number of Scientist icons activating the bonus round, determines the corollary Scatter Reward. Three, four or five landing on reels via a single spin, bring on a resultant Scatter Win equal to 2x, 15x, or 100x the Total Stake.
During a free bout, another set of three or more Scientists resets the bonus round anew; as well as accordingly award another Scatter Bonus.
The free games roll out on a special grid, to which the Middle Reel contains and displays only Scientist and Wild Symbols. In addition, the Robot image continues to stay active; giving players continuing opportunities of raking in Robot Spin-Wins and/or Volts and Bolts Jackpots.
Volts and Bolts : Win Jackpots via Robot Spins and Big Bonuses via Standard Free-Spins
Volts and Bolts online slot awards one or more of 4 Jackpots and more during every Robot Spins engagement. The range of regular Robot-Spin Payouts is from 20x to 750x the Total Bet; while Jackpot Values are between 20x and 5000x. Amazing even is that the Robot Jackpot Game remains available during standard free games. The latter awards 12 Free-Spins that run on a grid in which only Wild and Scientist Bonus Symbols emerge as outcomes of the middle reel.