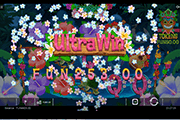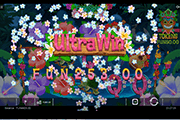 Wai Kiki Online Slot: Take Refreshing Spins in a Feature-Rich, Hawaiian-Themed Betting Game
Wai Kiki online slot by Iron Dog takes players on a refreshing reel-spin adventure to one of Hawaii's well-known beachfronts. Furnishing 25 paylines on which popular Hawaiian objects land as one-of-a-kind combos, this game also has fun bonus features. A Turtle may come around to award 100 coins; or unlock a windfall called Shark Fishing Bonus.
Now if players land on a combination that will take them to a Hawaiian feast, they will receive as many as 21 Free-Spins. The free round comes with a Tiki Totem Collection feature, which at the end of the free round brings surefire bonus-wins. In addition, Hibiscus blooms may spread across reels, and give players a winning advantage. After all, the native Hawaiian flower is the Wild Symbol that can substitute for any icon.

The Hukulele or Ukelele is the highest paying icon. Two (2) types of Hukulele illustrations appear; one leaning leftward while the other leans rightward. The left-facing Ukelele emerges only in Reels 1 and 2, while the right-facing one occurs in Reels 3, 4 and 5.
When those icons combine and align as winning payline combo, the longest union garners 40, 200 or 500 credits. However, only the longest Hukulele win per payline, will be appraised as winning arrangement.
Wai Kiki Online Slot: Wild Symbol
The Pink Hibiscus is a Wild that can substitute for any paying symbol. Any, includes those that help trigger a bonus event such as the regular Turtle, the Hukuleles and the Fish Hooks. Wilds though cannot represent the special Turtle with Flower and the Free-Spins Luau Symbols.
During Free Games, the Wild Flower appears by way of two (2) variants: a Pink or Day Mode Hibiscus and a Lavender or Night Mode Hibiscus. The Free-Spins Luau game board may produce up to five (5) Wild Symbols on a single spin; or may promote Wild Expansion to adjacent reels.
Hibiscus Wilds have potential to organise a paying combination. Any one-of-a-kind alignment qualifying as winning combo, will garner the same payout awarded by the highest-paying Hukulele.
Wai Kiki Online Slot: Instant Bonus Features
A fun game through and through, this online casino offering awards two (2) kinds of instant bonuses. The Turtle takes part as principal Trigger-Symbol in awarding a fixed 100-coin Instant Prize, or a random Cash Reward.
Instant 100-Coin Win – Via any spin, a special Turtle with a Pink Hibiscus may land at the center of Reel 3, to award this Bonus Prize.
Shark Fishing Bonus – On any spin, a regular Turtle icon may land at the center of Reel 3, whilst wedged between two (2) Fish Hook symbols. Such an outcome awards a random Bonus Prize.
Wai Kiki Online Slot: Free-Spins Bonus
Wai Kiki online slot players may receive an invite to a Free-Spins Feast, via a special Free-Spins Luau icon and Ukelele Symbols. If after a paid spin Reel 3 displays a Free-Spins Luau icon wedged in between a Left-Facing Ukelele and a Right-Facing Ukelele, 21 Free-Spins will set off.
Here, Pink and Lavender Hibiscus blooms may appear severally via a single spin. Either as natural outcomes of a free-spin, or by way of Wild Expansion attribute. At the same time, any of the random Instant-Win Bonus Features may also transpire. Another fun Luau treat is the guaranteed bonus reward that can be claimed through the Tiki Totem Collection.
Tiki Totem Collection
This feature introduces Free-Spins Tokens that appear in positions previously occupied by Cocktail Drink icons. This denotes that if 3, 4 or 5 Free-Spins Tokens collectively land as a winning payline combo, a Cocktail Drink payout of 15, 60 or 200 coin credit will be awarded.
Emerging Free-Spins Tokens have yet another significance. Every unit appearing as outcome of a bonus spin fills up the TIKI TOTEM located at the right side of the slot screen. At the end of the Free-Spins Luau Feast, the sum of all Tokens accumulated by the TIKI TOTEM will be awarded as BONUS Prize.
• 10 to 14 Free-Spins Tokens award 50 coins
• 15 to 19 Free-Spins Tokens bring 125 coins
• 20 to 24 Free-Spins Tokens garner 250 coins
• 25 to 29 Free-Spins Tokens bestow 500 coins
• 30 to 34 Free-Spins Tokens gift players with 1250 coins
Collecting 35 or more Free-Spins Tokens command the highest Bonus Prize of 5000 coins.