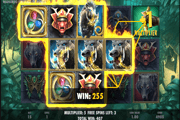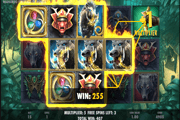 Warlords Crystals of Power Online Slot: Wild Overlays and Second Chance Respin to Activate Bonus Round
Warlords Crystals of Power by NetEnt is an online slot that depicts a saga about three formidable warriors. Containing 30 pay patterns all active during each spin, images of the featured Warlords, their spirit animals, and their headgears may fall as matched groupings in those pay lines. The Samurai, the Priestess, and the Barbarian emerge in any reel as full-reel images representing Stacked Identical Symbols.
Each character is portrayed as keeper of a powerful crystal that gives them protection against evil and danger. Based on the depiction, the Red, Green, and Blue Power Crystals become more potent when put together as elements of an Amulet. In this game, the Amulet represents the Wild Symbol that could influence the outcomes of a spin.


The three (3) Power Crystal Keepers also controls a round of free-spins, each capable of adding a special win-or pay-boosting feature exclusive to their bonus game segment. However, in order to activate the related bonus round, a warrior's Banner must prevail as triggering Scatter Symbol.
Warlords Crystals of Power Online Slot: Wild Symbol and Wild Overlay Feature
The Amulet Wild Symbol comes into view in any reel after any spin. This Wild Symbol can also land as winning combination in any pay diagram; awarding 15, 60, or 300 coin credits on groupings of 3, 4, or 5 matched Amulet Wilds.
When playing in the main/base game, Warlords slot players may experience one of three (3) types of Wild Overlay occurrences. It is a random feature, and uses a different set of reels that do not contain Scatter icons. A Sword, an Arrow or a Hammer appears to initiate a corresponding Wild Overlay feature, bringing additional Wild Symbols that could improve the outcomes of a spin.
• The Samurai's Sword – adds 2 up to 5 Wild Overlays in Reels 1 through 4.
• The Priestess' Arrow – adds 2 up to 5 Wild Symbols in Reels 1 through 5.
• The Barbarian's Hammer – adds 2 to 5 Wild Symbols on Reels 1 through 4.
Warlords Crystal of Power Online Slot: Scatter Symbol
A Banner Scatter Symbol corresponding to a warrior poses as triggering icon to an exclusive bonus round. The Red Banner represents the Samurai; the Green Banner the Priestess, and the Blue Banner the Barbarian. All three (3) Banner types are configured to emerge only in Reels 2, 3, and 4 in the base game reels. Once the game is in the Bonus Mode, all Banner types can come into view in any reel.
A set of three (3) same-color Banner Scatter immediately activates the corresponding free round. In the event that two (2)-of-a-kind Banners emerge as outcomes, the event triggers a Second Chance Respin.
The Second Chance Respin Feature gives Warlords slot players another chance to land on a third Banner of the same colour in order to successfully activate the free games. In the event Reels 2, 3, or 4 return after a respin without any Banner in place, a random consolation prize anywhere between 3 and 100 coins will be awarded.
Now, if the respin produced a Banner Scatter but one of a different color, the type of free round to be awarded will be determined via a Battle feature.
A Battle ensues whenever two or three dissimilar Banner icons emerge as outcomes of a base game spin. The symbolic battle is between the three (3) Warlords, of which the result is random. A Warlord wins if its full-reel icon takes position in a designated reel, completing the Banner Scatter winning combo. The Warlord's image then transforms into a Banner Scatter matching the two other same-colour Banner icons.
Warlords Crystal of Power Online Slot: Free Games
The Free-Spins Bonus Game activated by a Warlord constitutes free-spins and bonus feature as follows:
The Samurai Free Games award five (5) bet-free spins. Here, the Banner Scatter takes position as Sticky Wild, starting with the three (3) Banner trigger-symbols.
The Priestess Free Games award seven (7) free-spins. During the round, every Banner Scatter represents a 1x Multiplier that adds up throughout the bonus round. This means the Multiplier factor progresses in value, via increments of one (1).
The Barbarian Free Games award nine (9) bonus spins played on reels in which only the Warrior and Animal images appear as spin outcomes. In addition, every Banner Scatter coming into view awards three (3) Extra Spins.