User Rating: Be the first one!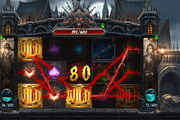 Werewolf Hunters Online Slot: Battle Between Hunter and Werewolf May Lead to Respin or a Free-Spins Round
Werewolf Hunters online slot by Yggdrasil, engages players on a dangerous mission of hunting down Werewolves. Werewolf icons landing on reels, show a brief skirmish between a Hunter or a Huntress. If the Hunter or Huntress gets to hit the Werewolf, the image of the beast turns into a Wild.
Even more significant is that any number of Wild Symbols emerging as outcome of a spin, sets off a Respin. Every Wild icon in view, stays around to enhance the free rolli. If a Respin yields additional Wilds, the feature continues.
Actually, other important developments may transpire. First off, a successful attack diminishes the health of the dreadful beast. Once the Werewolf Health Meter drop to zero, the event unlocks the "Slayer Free Spins." At the same time, defeating werewolves increases the Rage Meter of a slayer. When the Hunter's or the Huntress' Rage Meter is full, the event sets off the "Hunter Free-Spins."
Now it may take some time before the Werewolf health drops to zero, since it takes 600 successful attacks to accomplish such a feat. The same is true for the Rage meters of the Werewolf Hunters; requiring 100 Rage Points to fill up a meter. There is a 3rd approach to setting off a round of Free-Spins:. That is by landing a Hunter Bonus Symbol in Reel 1 and a Huntress Bonus icon in Reel 5.
Werewolf Hunters Online Slot: Slayer Free-Spins Round
Ten(10) Free-Spins will run on a grid in which all Werewolf icon automatically transform into Wild icons. Moreover, Wild Werewolf icons expand, to boost players' chances of hitting bonus wins.
Werewolf Hunters Online Slot: Hunter Free-Spins Round
Filling up the base-game Power Meter of the Hunter, or of the Huntress, activates ten (10) Free-Spins. Free rolls run on a different grid, in which any of the Werewolf Hunters win more battles.
Here, collecting 3 Hunter or Huntress Bonus Symbols, powers up the corresponding Werewolf Slayer. A powered-up Werewolf Hunter expands every Werewolf icon it defeats during the round. The event also adds two (2) Extra Free-Spins; albeit also causing the removal of all icons pertaining to the powered-up icon.
If only one slayer is empowered, the round will yield battles involving only the powered-up character. That way, players will have greater chances of producing Expanded Wilds with Respins.
Powering up both Werewolf Hunters during a single session is possible. Werewolf encounters transpiring during a bonus bout, will then alternate between Hunter and Huntress. A powered-up Hunter Expands a Werewolf Wild one position to the left. On the other hand, an empowered Huntress expands a Werewolf Wild, one position above or below.
Werewolf Hunters Online Slot: Free-Spins Round
Hunter and Huntress Symbols simultaneously occurring in Reels 1 and 5, award 10 Free-Spins. Every Bonus Symbol of a werewolf-slayer, counts in activating a related power-up meter. A full meter awards 2 Extra Free-Spins as well. The game mechanics here, are similar to a Hunter Free Round.
Werewolf Hunters : Werewolf Slayers Take on Task of Defeating Werewolves to Unlock Free Games
Werewolf Hunters online slot takes players along on fulfilling missions of slaying werewolves by role-playing as Hunter or Huntress. In every Werewolf scene in which a slayer defeats the hideous beast, the latter transforms into a Wild Symbol. Now each Wild that comes into view triggers a Respin, This denotes that the more Werewolves slain, the more Respins likely to transpire. Awesome even is that if the life meter of a beast drops to zero , a Free Round activates, to which all emerging Werewolf icons automatically transform into Wilds. Two other free game modes may activate; either by collecting Rage Points or by landing Hunter and Huntress icons via a single spin.