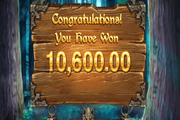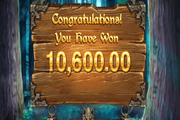 Wicked Tales Dark Red – Unlock a Bonus Wheel that Awards Cash until Bonus Game Sets Off
Wicked Tales Dark Red online slot by Triple Edge Studios, lets players in on a secret hidden amidst a forest. In order to find out, follow symbols of a mysterious Red-Caped Lady, a Man, a Wolf and a Locket. The locket contains a picture of a young Red Hooded Girl and her Grandmother, suggestive of characters belonging to a popular fairy tale. Matched groupings of those images occurring in any of 25 paylines, draw out high returns as top paying symbols.
Discover the secret of the forest once a paid spin produces 3 Full Moon tokens positioned anywhere across the forest-themed grid. A Wolf's Wheel unlocks; giving players a chance to collect guaranteed cash prizes and play one (1) of 2 types of bonus games. The bonus event transpiring thereafter, may be a round of free games in which a single high value icon emerges as the only top-paying element. If the wheels-spin lands on a Treasure Chest, the event opens the portal to the Forest of Fortune Pick Game.
While a spin is ongoing, take note that a set of 3 Reels containing 4 rows of images, tend to shift positions; moving either to the left, to the right or in between the 2- Reel set. The greater significance of the large set of Wandering Reels is that they contain 4×3 Jumbo images of top paying icons.


Wicked Tales Dark Red – Wild Symbol
The Dark Red Game Logo poses as Wild Symbol, capable of representing any reel element, except the Full Moon Scatter. Logo Wilds acting as substitute symbols, follow the payout of the principal winning icon. Yet if a set of 3, 4 or 5 Dark Red Wilds align as a winning payline combo, the Wild arrangement awards a payout equal to 10x, 100x or 500x the Line Bet Value.
Wicked Tales Dark Red – Wolf's Wheel Bonus Feature
A scattering of 3 Full Moon icons emerging anywhere across the forest grid, opens the portal to a bonus game. A Wolf's Wheel unlocks to award Cash Prizes of up to 20x the Total Bet and guaranteed entry to a Bonus Game. Players spin the wheel and land on cash prizes while awaiting to land on a Wheel Icon that will set off, either the Pick Game or the Free-Spins Round.
Forest of Fortune Pick Bonus Game
Bonus players landing on the Treasure Chest icon of the Wolf's Wheel, unlocks a panel displaying 15 Satchels. The pouches contain either Cash Prizes, an Axe Symbol or a Wolf.
Values of Cash Rewards revealed, further increases by way of a progressive multiplier. The Multiplier increases by one (1) every time a cash prize is won. Up to 10 Satchels contain Cash Rewards. Revealing all, ends the Forest of Fortune Pick Game.
If a Satchel reveals an Axe, the icon can be saved. Players can use it later as foil against a Wolf Symbol that may turn up as a Pick choice. That is because, a Wolf Symbol immediately closes the Forest of Fortune. Not unless, an Axe Symbol has been saved, as the object can be used to attack the Wolf icon. If such is the case, players can continue tapping on Satchels and collect additional or all cash bonuses, before another Wolf icon turns up.
Free-Spins Bonus Round
When a spin of the Wolf's Wheel eventually lands on an image of a Wicked Tales Dark Red high-win icon, a set of nine (9) Free-Spins kick off. The symbol responsible for triggering the free round becomes a high-impact element of the Bonus Game. It will sequester all reel positions occupied by other top-paying elements; giving the icon multiple positions in which to emerge as sole high-win symbol of the bonus round.