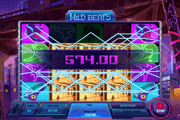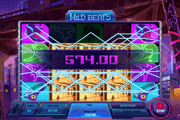 Wild Beats Online Slot: Performing DJs Turn Symbols into Wilds!
Wild Beats is a 25-payline, disco-themed online slot released by Playtech. The 3×5 grid is embellished with sounds and sights depicting a lively street-dance showdown. Here, a Male and a Female Disc Jockey attend as Special Wild Symbols. On their own, both icons pose as Extra Wilds that can perform substitution actions. As virtual emcees of the Wild Beats dance face-off, they can trigger a reel- transformation that creates an instant LED-lit, Wilds-filled Dance Floor.
Although this Wild Beats online slot has no bonus game or free-spins round to offer, the symbols that trigger the lone win boosting feature tend to occur frequently. Multiple Wilds are likely to appear, creating increased chances of striking awesome Big Wins.


Wild Beats Online Slot: Simultaneously Dance it Out Feature
The Male DJ appears only in Reel 2, while the Female DJ is a Reel 4 exclusive. When both Reels 2 and 4 return with those two (2) Deejay images, the "Simultaneously Dance it Out Feature" activates.
Pay attention to the corollary icons appearing in Reel 3. If one or more Royal Symbols are in that column, the two (2) DJ icons expand in order to align with the occurring Royal Symbols. After which, both DJ Wilds and all Royal Symbols between them will transform into Regular Wild Symbols.
The greater the number of Royal Symbols landing in between those Special Wilds, the larger the expanse covered by Wild Symbol transformations. Wild Symbols filling a bigger area at the center reels, will of course heighten the possibility of landing on multiple payline wins.
Wild Beats Online Slot: Regular Wild Symbol
A straightforward WILD emblem appears as regular substitute icon in Reels 1, 3 and 5 only. Its appearance in Reels 2 and 4 occurs in conjunction with the "Simultaneously Dance It Out Feature."
Regular Wilds, when occurring consecutively, starting from the leftmost position of any payline, award the highest payout values. Three, four, or five winning Wild Symbols award 75, 150, or 5,000 credits.
Regular Wild icons can combine with the two (2) Special DJ Wilds to form a Wild-payline Win.
Wild Beats Online Slot: Royal Symbols
Ordinarily, Royal Symbols in conventional slot games refer to the Ace (A), King (K). Queen (Q), Jack (J) and 10 icons. Albeit touted as royal, they represent the low-win symbols. In this Wild Beats Game, the Royal Symbols alluded to are the Red, Purple, Blue-Green, Blue, and Green Dance Move Silhouettes.
The Red Dance Move awards the most number of coin credits. Three (3), four (4) or five (5) landing as a payline win garner 15, 25, or 70 coin credits. The other Royal Dance Move Symbols can earn players coin credits ranging from 5 to 60.
High or Low-win, only the longest identical-symbol groupings, occurring from the leftmost reel will be appraised as winning combination in a payline.
Wild Beats Online Slot: Betting Options
All 25 paylines are in play during each spin. Every Bet staked per spin constitutes 25 bet values to cover the entire lot. The range of coin values available as betting choices is from 0.01 to 0.40. The lowest bet per spin therefore is 0.25 (0.01 Coin Value x 25 paylines), while the highest equates to 0.40 x 25 paylines, or 10.00 per spin.