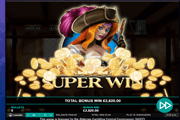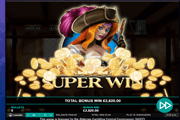 Wild Jane the Lady Pirate: Treasure Hunt Adventure in the Company of 4 Lovely Lady Pirates
Wild Jane the Lady Pirate, 20-payline online slot by Leander Games is as fun and as thrilling as it looks. Featuring not only Jane, but also 3 other lovely lady buccaneers named May, Beth and Eli. All four have special features and bonus segments designed to bring exceptional Bonus Wins. Pirate Jane is the leader, as she is featured as the regular Wild Symbol appearing in the Bonus Game. Moreover, she will prove her worth as a formidable ship captain in a Pick-a-Bonus Game, where she shoots at tankards that award additional bet-free prizes.
Each of Jane's gorgeous ship crew also becomes Wild Symbols, but only in the Free-Spins Bonus Game that they represent. During base game spins, the three (3) lands on reels as top-paying regular symbols. Pirate May, the black-haired beauty has the highest payouts. When her image lands as consecutively positioned symbols within a payline, coin wins of 5, 50, 500, or 2500 will be paid on the longest winning arrangement occurring in a payline.


In the Bonus Reels, a traditional Black Jolly Rogers Flag replaces Pirate May as top paying symbol. Actually, all three (3) Lady Pirate regular symbols will be replaced in the bonus round reels.
Wild Jane Online Slot: Expanding Wild Symbol
Every Pirate Lady occurring as Wild Symbols expands into a full-reel image; furnishing an equivalent of 3 substitute icons in each reel. As base game Wild, Pirate Jane expands her Wild image only if it becomes part of a winning payline arrangement. Her totem though emerges only in Reels 2, 3, 4, and/or 5.
Wild May, Wild Beth or Wild Eli, likewise appears as Expanded Wild images, but only in the Free-Spins Bonus Game that they represent. Yet their Expanded Wild image will be visible throughout the round, as the featured Pirate Lady will become a fixture in Reel 1; locking in place from start to end of the corresponding bet-free round.
Wild Jane Online Slot: Free Games
Three (3) Treasure Chest icons appearing simultaneously in Reels 1, 3, and 5, initiate the loading of the Free-Spins Bonus Round. Activating the round triggers 10 guaranteed bonus spins, which could increase via a Treasure Hunt for additional free-spins and bonus-win multipliers. Wild Jane bonus game players need to select a favored Lady Pirate, as each icon awards a different set of Shovels to use in digging for more free-spins and multipliers.
Lady Pirate May awards eight (8) shovels to use in unearthing, up to 25 free-spins and up to x6 Multiplier.
Lady Pirate Eli – The Afro-haired, female buccaneer awards six (6) shovels in exploring the Treasure Island, and as means of exposing up to 20 free-spins and Multipliers of up to x5.
Lady Pirate Beth – The blonde lady brigand awards four (4) shovels to use in digging up as many as 15 free-spins and multipliers of up to x4.
However, any of the spots to dig may also reveal a Bomb, which not only ends the treasure hunt. It also automatically eradicates all chances of adding more to the 10 free-spins originally awarded, and of gaining a bonus win multiplier. Wild Jane players who succeed in avoiding the Bomb after using all available shovels, will get to collect the full number of spins, as well as the sum of all multipliers unraveled.
Wild Jane Online Slot: "Shoot the Tankards" Bonus Game
A Pick-a-Bonus segment in which Wild Jane will shoot at ten tall beer mugs lined up in a shelf, to reveal coin wins for qualifying players. The Lady Pirate though has only six (6) bullets and it is up to a player to select her tankard targets. The Total Bet that triggered this bonus feature multiplies all prizes revealed by the toppled Tankards.
To activate this bonus feature, Wild Jane players must land on a spin outcome displaying Crossed Pistol icons in Reels 2, 3, and 4.
Wild Jane Online Slot: Scatter Rewards
In addition to bet-free wins gained from the Free-Spins Round and "Shoot the Tankards" Bonus Game, a Pirate Skull icon also awards Scatter Pays. The icon appears in both base and free games, in any reel or row. Three, four, or five Pirate Skull icons scattered across any type of playing field correspondingly awards Scatter Pays equivalent to 5x, 25x, or 100x the Total Bet.