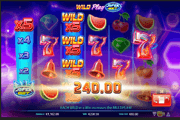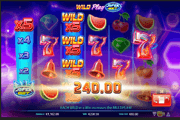 Wild Play Super Bet Online Slot: Stacked Wilds with Multipliers that Double during Free Games
Wild Play Super Bet online slot takes NextGen Gaming's Double Play Super Bet to a higher level. Here Stacked Wilds and/or Wild Multipliers occur in both base and base game reels. Moreover, the Free-Spins round continue to double all winnings including those incremented by Wild Multipliers. The Super Bet Mode gives players several betting options for increasing the Wild Multiplier in play.
Excellently crafted images of Vegas-style icons such as the Number 7, Diamonds, Emeralds, and Bells, garner high pays when appearing as 3-, 4-, or 5-of-a-kind totems in a payline. The Number 7 ranks as the highest payer, awarding 5, 20, or 300 coins correspondingly. The Diamonds, Emeralds, and Bells, award coin wins within a 5 to 150 range. Fruit icons such as Watermelons, Lemons, and Cherries remain as low-win symbols, awarding coin wins ranging from 3 to 50.


The Bonus Scatter is still the most significant, since a winning Scatter combination triggers the double-paying Wild Play Super Bet free games.
Wild Play Super Bet Online Slot: Wild Symbol and Multipliers
The Wild icons are configured as Stacked Symbols. They appear in part or in whole as Stacked Wilds but only in reels 2, 3, and/or 4. Any segment of the Stacked Wilds combining with identical images along a payline, completes or stretches a winning arrangement into a higher paying combination.
Wild Multipliers – Wild Play Super Bet spins launched with regular bets produce Stacked Wilds with x1 Multipliers. The Wild Multiplier may increase to x2, up to x5 if spins are played via the Super Bet Mode. The latter though, requires staking a greater number of coins per spin but may prove to be more lucrative.
A Super Bet Wild Multiplier increases when multiple Wilds constitute a payline win. To illustrate by way of example, a winning arrangement completed by three x5 Wilds garners a payout multiplied by x15 (3 Wilds . x5). When occurring during a round of free games, the x15 Wild Multiplier doubles, and becomes x30.
Wild Play Super Bet Online Slot: Free Games
Three (3) Bonus Game Symbols occurring simultaneously in Reels 2, 3, and 4 trigger 10 Free Games. In addition, Scatter Rewards of 80 coins multiplied by the Bet staked per line will be awarded. If a free-spin lands another set of three Bonus Symbols, another round of free games will be awarded.
During the free bout, all winnings including those multiplied by Wild Multipliers will be doubled.
Wild Play Super Bet Online Slot: Betting Requirements and Options
All 40 paylines are in play with every spin. A Regular Bet requires staking 50 coins per spin, which denotes adding 10 coins to the 40 staked on all paylines. The coin value selected from a range of betting values, between 0.01 to .50 will then multiply the 50 coins staked per spin; e.g. 40 coins for all paylines + additional 10 coins x 0.01 equates to a Total Bet of 0.50 per spin. All coin wins are given value based on the Bet staked per payline, which in this case is 0.0125 (.50/40 paylines.)
Super Bet Options comprise four betting levels. Each level increases the required number of coins to stake per spin. Starting at Level 1 that requires 100 coins, the number increases to 200, 250, up to 300 coins in the succeeding levels. The higher the Super Mode Bet Level, the greater the Wild Multiplier, from x2 to x3, x4, and x5, respectively.