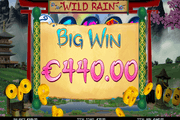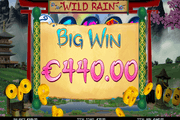 Wild Rain Online Slot: Lingering Wild Overlays, plus 6 Random Modifiers that Optimise Base Game Spins
Wild Rain is a 20-payline online slot by Core Gaming deployed via the SG Digital (SG Interactive) gaming platform. The Wild Rain caption generally refers to random Wild Overlays that appear and linger awhile. They eventually disappear from their respective reel, since they will move out of the grid by shifting down one position on every spin. Lingering Wild Overlays also transpire during free rounds. In fact, the Wild Rain Game Info states that, they will transpire frequently during bonus bouts.
In the meantime, players may experience other random events that will boost their win-chances. While spinning on, in order to enter a free round, six (6) different Reel Modifiers may transpire on separate random occasions. A modifier may increase the number of Wild Rain Overlays; or cause Wild Overlays to move sideways toward the left border reel. A modification may even bring Wild Overlays back to the top of reels. The most noteworthy, are those that either yield a Win-Multiplier; or add Bonus Symbols that will set off the much awaited Raining Wilds Free-Spins Round.


Wild Rain Online Slot: Wild Symbols
A huge drop of Blue and labeled as Wild, poses as a regular Wild Symbol. It emerges in any reel as part of a spin outcome. If the blue icon comes around as full illustration of a Raindrop Wild, it is an added Wild Overlay that performs the basic Raining Wilds power up feature.
Raining Wilds are events that transpire by way of the Raindrop Wild Overlay. Those special Wilds always emerge at the topmost position of any reel. They will then maintain visibility on the grid in the next 3 spins. However, each Overlay Wild shifts downward one position at a time on every spin. Once it reaches the bottom border, the Overlay Wild eventually disappears.
Regular Wilds, together with Overlay Wilds may align appropriately in a payline as a matched-combo. If so, the longest of a 2, 3, 4, or 5 winning Wild arrangement, correspondingly pays out a cash reward equal to to 2x, 50x, 200x or 500x the Line Bet.
Wild Rain Online Slot: Free Games
A round of free games is called the "Raining Wild Free-Spins." Here, the Raining Wilds feature transpires frequently, and possibly, with greater number of Wild Overlays in tow. Regular Wild Symbols continue as active elements and may appear concurrently with the lingering Wild Overlays.
To activate a free round, at least 3 Red Lantern Bonus Symbols must land anywhere via a single spin. Ten Free-Spins set off as initial bonus rewards. Landing more than 3 Lantern Bonus icons is better. Every extra bonus symbol expanding a 3-symbol a Lantern Scatter Combo, extends the standard 10-spin bonus with 5 more free-spins.
Should a bonus spin yield a scattering of 2, 3, 4 or 5 Lantern Bonus Symbols, the round extends with an additional set of 5, 10, 15 or 20 Extra Free-Spins, respectively.
Wild Rain Online Slot: Random Base-Reel Modifiers
During base game sessions, certain weather conditions bring on Reel Modifiers that may drastically change the outcomes of a paid spin. The changes improve potential outcomes of a related spin, by way of the following:
Lightning Times – Lightning strikes the grid, but leaves behind a win-multiplier that is applicable to winnings gained from the same spin.
Wild Lightning – Bolts of lightning hit the grid in different spots, whilst adding Raindrop Wild Overlays. This event is actually an enhanced version of the basic Raining Wilds power up feature.
Hurricane Wild – An event that transpires when Raindrop Wilds are present in reels, making their way out of the slot screen. A strong gust of wind causes the travelling Wild Overlays to change direction. Instead of shifting downwards, they will travel horizontally until they reach the leftmost border reel.
Tornado Wild – If a tornado sweeps across the grid, it will lift all Wild Overlays currently in view. The tornado will carry them back to the highest available reel position, allowing the Wild Overlays to linger longer.
Bonus Chance is a random event that adds a Lantern Bonus Overlay that will likewise travel down during the next 3 spins.
Lightning Bonus transpires, only if 2 Lantern Bonus Symbols are already in place. A bolt of lightning may strike the grid and leave behind a Bonus Symbol that will complete a Red Lantern Scatter Combo.