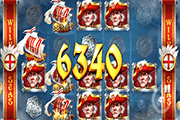 Wild Seas Online Slot: Break the Ship Convoy and Loot the Treasure to Rake in Big Wins!
Wild Seas online slot by Elk Studios furnishes an action-packed, icon-matching game that comes with an epic story to tell. Players will be taking on the role of a legendary Pirate Ship Captain named Anne Bonny, whose mission is to retrieve treasures seized from islanders in the Caribbean region.
In order to achieve such quest, Wild Seas players must advance to the Level 1 Bonus Game Segment,"Break the Convoy." If players succeed in breaking the convoy of Sailing Wild Ships, they will be able to "Loot the Treasure" in the second Bonus Game level.
During reel spins, identical images of Anne Bonny, of English, French, and Portuguese Ship Captains can bring top pays. Anne Bonny has the highest Paytable Values. Three, four, or five of her image correspondingly commands 250, 500, or 1000 credits multiplied by the Coin Bet. Components of all wining arrangements though must occur in consecutive reels starting from leftmost column.
Chances of hitting any of 178 possible ways to win, receive boosts from different Wilds. All of which functions as both substitute icons and bonus game trigger elements in their respective game modes.
Wild Seas Online Slot: Wild Symbols
This game comes in three modes. Each mode has a distinct Wild Symbol that can favorably influence players' reel-spinning experience in the following ways:
The Wild Seas Flag – represents the Base Game Wild icon that emerges only in Reels 2 and 4. A Wild Seas Flag landing on both reels via a single paid spin, elevates the game to the Level 1 Free-Spins Bonus Round ("Break the Convoy").
Sailing Wilds – are four units of white Wild Ships that appear in Reel 5, at the onset of the "Break the Convoy" bonus segment. All Sailing Wilds simultaneously travel on a leftward direction, by transferring to the next reel on each bonus spin. The Wild Ships though may disappear before they can make their way out of the slot grid.
On any "Break the Convoy" bonus spin, Anne Bonny's black Pirate Ship may appear and fire at a Sailing Wild Ship positioned in the same row. Once a Wild Ship receives three (3) cannon ball hits, it will sink and its voyage thwarted. In its stead, a Treasure Chest icon will take over as replacement reel element.
Treasure Chest Wilds represent the riches retrieved by Anne Bonny after sinking at least one Sailing Wild Ship in the "Break the Convoy" Bonus Game. Initially they appear in the "Loot the Treasure" Bonus Stage as closed, Wild Treasure Chest images. However, they will appear only in Reels 2, 3, and 4.
This time any black Pirate Ship occurring as spin outcome, will fire cannon balls at Treasure Chest Wilds positioned in the same row. A hit Treasure Chest icon transforms into a Sticky Open Treasure Chest Wild. As the Level 2 Bonus Game continue with an indefinite number of bet-free spins, Reels 2, 3, and 4 may fill with several Sticky Treasure Chest Wilds up to the end of the Level 2 Bonus Game.
Wild Seas Online Slot: Free-Spins Bonus Games
Anne Bonny's mission will find fulfillment via 2 Bonus Game levels: "Break the Convoy and "Loot the Treasure."
Level 1 – Break the Convoy sets off when Wild Seas Flag icons are simultaneously on display in Reels 2 and 4 of the Main Game grid. The number of bonus spins awarded is indefinite, as the round carries on until all Sailing Ship Wilds are no longer present in the Level 1 game board.
This segment advances to the second level, only if at least one (1) Sailing Ship Wild sunk during an ongoing Level 1 round. Otherwise, the game reverts to the Base Game mode, once all Sailing Ships have made their way out of the grid.
Level 2 – Loot the Treasure activates after completing "Break the Convoy" with at least one sunken Sailing Ship Wild. The round likewise carries on for an indefinite period as it ends, only if a Barrel icon explodes.
As Anne Bonny's Pirate Ship fires cannon balls aimed at closed Treasure Chest Wilds, a stray firepower may inadvertently hit a Barrel icon. The mishap will cause the latter to explode, therefore end the Level 2 Bonus Round.
Wild Seas : Help Retrieve Treasures in the Easy-to-Trigger, 2-Level Bonus Games
Wild Seas online slot furnishes non-stop reel-spinning adventure by way of a 2-Level Bonus Game that players can set off easily w/ just 2 base game Wilds. Both Bonus Stages carry on indefinitely as the completion depends on the performance of level-specific symbols. The Level 1 Bonus Game has Sailing Wilds that travel until they reach the end of the grid, and render the bonus stage complete. The Level 2 Bonus Stage depends on a Barrel icon, which if accidentally hit by a Cannon Ball, will end the second-level bonus round. In Both Bonus Game Stages, the reels are enriched with impressive Wild Power.