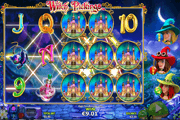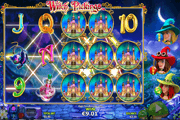 Witch Pickings Online Slot Bewitching Game with Great Bonus Rewards!
Witch Pickings is a NextGen Gaming online slot that takes players on a bewitching adventure to explore the world of three (3) modern young witches. They are good witches by the way, brewing potions and casting spells to help players experience a most rewarding online casino gambling recreation.
This virtual 5-reel slot machine offers a diverse and abundant collection of pay-boosters available as choices of win-enhancers when playing the free-spins bonus rewards.
[/CBC]

Witch Pickings Online Slot Wild Symbol
A radiant Purple Orb represents the Witch Pickings Wild Symbol. Aside from being usable as substitute for regular icons, such as the Castle, Cauldron, Potion, Cat and the standard A, K, Q, J, 10 and 9, it also pays coin rewards for Wild Symbol payline combinations. Witch Pickings online slot awards 20, 100, 200, or 1,000 respectively, for every two (2), three (3), four (4) or five (5) Purple Orb Wild Symbols that land on any of the 25 fixed paylines.
Actually, the Witch Pickings Wild has additional features as they could emerge as Expanded Wilds, EXTRA Wilds, and Win-Multiplier Wilds in the bonus game.
Witch Pickings Online Slot Scatter Symbol
The Red Witch, the Blue Witch, and the Green Witch all appear as a Trio of Teen Witches in a single icon to represent the Scatter Symbol. Any two (2) and up to five (5) of those images scattered across the reels in any position pay 50, 100, 250, and as many 625 coins, accordingly. The number of coin rewards is then multiplied by the bet staked per spin. The great news is that the Teen Witches Trio appears frequently in both the base game and free-spins play.
In addition to the Scatter Pay, at least three (3) or more of the Teen Witches Trio icon emerging as spin outcomes trigger the activation of the Witch Pickings Free-Spins Bonus Game.
Witch Pickings Online Slot Free-Spins Bonus Game
Initially, the free games segment awards a set of five (5) bet-free Spins. Witch Pickings slot players can have five (5) extra spins, if they so choose the +5 Free-Spins bonus option offered by the Green Witch.
Actually all three (3) teen witches have a set of pay-boosting features to offer as win-enhancers in customising individual Free-Spins Bonus Round. At the onset of the free segment, bonus game players choose any one of three special reel features offered by the Blue, Red and Green Witches.
Reel Symbol Win Enhancers The Blue Witch could cast spells aimed at enhancing the way by which reel symbols appear as spin outcomes. The Blue Witch selection includes Same Symbols, Stacked Symbols, and Symbol Prizes. The Symbol Prizes option, awards a guaranteed but random prize of 500, 250, 200, 150, 50, or 25, for every Designated Special Reel Symbol emerging as spin outcomes.
Wild Symbol Win-Boosters – The Red Witch specialises in casting spells that enhance Wild Symbol outcomes. She can make the Witch Pickings Wild Symbol appear as Stacked Wilds, or can create Extra Wilds, and even enchant the Purple Orb Wild into paying Wild-completed wins in folds by attaching random Win Multipliers of 2x, 3x, 4x, or 10x.
Free-Games Pay-Boosters – The Green Witch has control over special game features that can make the reels produce more winning outcomes. The choices offered by the Green Witch, aside from the set of +5 Extra Free-Spins, include Pay-Both-Ways recognition scheme, and an All Wins Multiplier.
The Green Witch offers Multiplier Factors of 2x, 3x, 4x, or 5x, applied as pay-boosters on all payline wins achieved in the Free Games.
To help players make wise decisions in selecting any of the special bonus features offered by the Witch Pickings witches, the game furnishes a history of previously selected bonus features. That way, slot players have a basis for analysing and picking the most lucrative pay-boosting features.