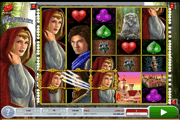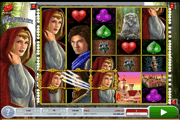 Wolfheart Online Slot: Top-Paying Reel Images Appear as Super Stacked Symbols
Wolfheart is an 8-reel online slot with 6 rows of medieval-themed images revolving around a knightly character and his lady. At a glance, the slot grid appears to have five reels; but columns 3, 4, and 5 comprise two (2) reels each with 3 rows of icons. The unique reel-segmentation brings the total number of reels to eight (8) in all.
Stacked images in Reels 1 and 2 may appear as 6-tile high enlarged-symbols, while Reels 3 to 8 produce 3-tile high Stacked Symbols.

Microgaming also added a win-boosting Mystery Feature that enhances a reel with a randomly selected regular symbol before a paid or bonus spin. The purpose of which, is to increase the odds of landing on matched payline groupings of the Mystery Symbol. To make it even easier for players to hit payline wins with every spin, Wild icons may also appear as Stacked Symbols as reel-spin outcomes.
Wolfheart Wild Symbols
The Wolfheart nobility featured as main character represents the Base Game Wild Symbol. His image appears as a single-tile icon or as enlarged stacked totems occupying 3 up to 6 tiles. Aside from the symbol's usability as substitute icon, the game awards payouts for every three (3), four (4), or 5 Wolfheart Wilds lining up as matched symbols in any of the game's 60 paylines. Wild Symbol payline winnings, won via a 160.00 MaxBet Spin, award 150.00, 300.00, 2500.00 accordingly.
In the Free-Spins Games, images of a Grey Wolf and a White Wolf pose as Bonus Game Wild symbols. Any Sir Wolfheart or Lady Wolfheart icons emerging across the reels after a bonus spin, will change into Extra Gray Wolf and White Wolf Wild Symbols, respectively.
Wolfheart Online Slot: Gold Shield Scatter Symbol
Gold Shield totems appear in scattered locations across the reels. Whenever two (2) or up to eight (8) Gold Shield Scatters emerge as outcomes of a single spin, slot players stand to receive Scatter Rewards of 40.00, 80.00, 400.00, 1000.00, 4000.00, or 8000.00 correspondingly.
In addition to the Scatter Bonus, three (3) up to eight (8) Scatter Shield Symbols also award 8, 12, 16, 25, 40 or 60 bonus spins.
Wolfheart Online Slot: Free-Spins Bonus Game
The free-spins round will still be played in an 8-reel slot configuration, but the Gold Shield Scatter will appear only in Reels 2 through 7. Two (2) or more Shield Scatters emerging after a bonus spin will retrigger 2, 6, 12, 16, 25, or up to 40 bet-free spins. All wins completed with a Wild Symbol will earn twice (2x) the equivalent win-value of the winning symbol.
Bonus Game Wild Symbols: The great news is that the bonus reels are enhanced with more Wild Symbols, as the base game Wolfheart Wild will be replaced by two Wild totems, a Gray Wolf and a White Wolf Bonus Wild.
On the other hand, any Sir Wolfheart and Lady Wolfheart in view after a bonus spin will transform into Gray or White Wolf images. A transformation occurrence therefore could increase greatly the chances of landing on more 2x-paying Wild-completed payline wins.
However, the 2x bonus win-multiplier does not apply to payline combinations formed by matching Gray Wolf or White Wolf Wild Symbols.