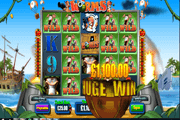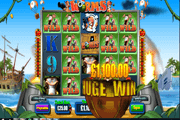 Worms Video Slot – Worms in Action in a Reel-Spinning, Real-Money Gambling Entertainment
Worms, the online video slot is a 50-payline real-money betting entertainment by Blueprint Gaming. The latter used as model, the popular turn-based Worm PC game, and deploys the content to online casinos powered by OpenBet.
Worms the video slot, furnishes three (3) excellent games as choices of bonus features.
One of which is the Free-Spins Battle, a bonus game awarding unlimited bet-free spins. The two others are bonus segments awarding instant wins via Pick and Click Games. The reel icons are presented in the same cartoon-style imaging, depicting the computer game and its Worm characters to a tee.


Worms Online Slot: Wild Symbol
An image of a typical Worm character comes into view as Super Stacked Wild Symbols. The Stacked Worm Wilds may emerge wholly or partially in one or more reels. The abundance of Worm images appearing as outcomes of a spin makes it possible for players, to land on Worms Wild combinations.
Three, four, or five Worm Wilds lined up in a payline award 25, 100, or 500 coin credits correspondingly. In the event that all 5 reels are filled entirely with Super Stacked Worm Wilds, a whopping 25,000 coin prize multiplied by the Bet staked per payline, will be awarded.
Worms Online Slot: Bonus Game Symbol
The Crate, which appears in almost all "Worms" series, represents the Bonus Game Symbol. It emerges only in Reels 2, 3 and 4. If after a spin, all three reels return with a Crate Bonus Symbol in any position, the three (3) Bonus Game Choices will be presented.
Worms Online Slot: Bonus Game Choices
The icons of the following Worm characters and their corresponding Bonus Game will be presented as choices:
Sgt. Major Worm and the Free-Spins Battle awards unlimited free-spins. The duration of the game though relies on the health of Sgt. Major Worm. Once it zeroes out, the Free-Spins Battle bonus round ends.
The Bonus Reels are configured with icons of Sgt. Major Worm, a Pirate Worm, and a Medic Worm. During the free games, Sgt. Major Worm and the Pirate Worm launch turn-based attacks against each other. The attacks are triggered whenever their respective icons appear as outcomes of a spin. A Pirate Worm attack diminishes Sgt Major Worm's health, while Sgt. Major's attack against the Pirate brings an extra Bonus Win. Only the emergence of a Medic Worm icon can partly restore Sgt. Major Worm's health. Such an occurrence also partly extends the unlimited free-spins round.
Cosmo Worm and the Space Trail Bonus is a Pick and Click game of revealing images that will enable Cosmo Worm to advance along a Prize Trail. If a Worms bonus-game player unravels a prompt to Advance, Cosmo Worm will move on to the next planet, whilst collecting bonus wins. The further Cosmo Worm advances, the higher the bonus wins gained. If a player inadvertently reveals a Weapon, the object detonates and disables Cosmo Worm. The occurrence then ends the Space Trail Bonus.
Scot Worm and the Crate Escape – is a simple Pick and Click Bonus game of revealing a Cash Prize, a Weapon and a First Aid Kit. Revealing Cash Prizes allows a player to continue with the Pick and Click exercise. If a player unravels a Weapon, the object will reduce Scot Worm's health. Unraveling a First Aid Kit partly extends Scot Worm's life, as well as a player's Crate Escape session. The Bonus Game ends if Scot Worm's health zeroes out.