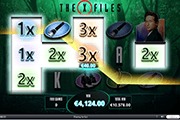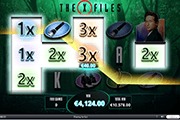 The X Files Slot: Multiplier Wilds Appear on Rifts and Add Up When More Than One is in View
The X Files Slot is Playtech's 20-payline adaptation of the The X Files 2008 Movie: I Want to Believe. Actual images of Fox Mulder (David Duchovny) and Dana Scully (Gillian Anderson) appear as highest paying icons. They share uniform Paytable Values of 10, 40, 200 times the Line Bet, when 3 or more of their respective image occur as payline wins. Another Icon that awards the same range of Pays are the Multiplier Wilds, which are actually the most rewarding elements of this game.
The X Files Wild Symbols appear on reels as Multiplier Values of 1x, 2x, 3x or 5x. Any of those factors occurring as substituting content of a winning arrangement, accordingly increases the payout. It is possible for a spin to produce more than one Multiplier Factor. In such cases, the sum of all incrementing values involved in a winning combination will increase the related winnings.
The most exciting win-events happen in the free round. The Bonus Grid has special mechanisms that locks the so-called Rifts on which Multipliers Values land. The locking mechanism ensures that throughout the bonus round, Multiplier Wilds flourish in numbers. The Locked-in Rifts therefore increase not only chances of striking Wild-completed wins, but also of raising the applicable Multiplier Value.


The X Files Slot: Multiplier Rifts Feature
Every spinning reel has a Rift or White-Space Gap, serving as window for the spinning Wild Multipliers. Take note that Multiplier Wilds do not appear as fixed elements of a reel. That is because Playtech configured each reel with a separate reel for Multiplier Values. Those special reels spin independently, but concurrently with the main reels.
Any Multiplier Value landing on a Rift or Gap in place after a spin, will then serve as active Wild Multiplier. If more than one Rift or Gap occurs as outcomes of a spin, it follows that more than one Wild Multiplier is available as substituting, and win-incrementing element.
The most rewarding outcome of course, is when all five (5) reels return after a spin with a Rift in place. Combine such outcome with a 5x Multiplier display on every Rift, and this will bring the highest Wild Multiplier Value of 25x.
The idea may seem farfetched but not so in the Free Round. After all, the free-spins will run on reels that lock in place all emerging Multiplier Rifts.
The X Files Slot : Free Games
An Alien Spaceship with the "I Want to Believe" X Files sub-caption, poses as triggering element of the free games. Configured as a Scatter Symbol that takes effect on any reel on which it lands, three, or more Spaceship icons simultaneously in position, activate the Locking Rift Free Games.
Three, four, or five Spaceship Symbols, scattered across the play area, instantly load 7, 10, or 20 free-spins, respectively.
Free Games Locking Rifts – Once a Multiplier Rift lands as outcome of a bonus spin, that particular gap will become a fixture during the round. The Multiplier Values landing on the locked-in Rifts will vary on every bonus spin, since the special Multiplier reels will still return with a random value on every spin.
Nonetheless, as more Rifts take fixed positions during an ongoing spin, the more likely for bonus wins to balloon in immense proportions. Keep in mind that the Multiplier Values are not just win-incrementing factors. They are also Wilds that can represent any regular-paying element, for purposes of completing a win.
Moreover, the greater the number of Locked-in Reels present in the bonus grid, the higher the chances of forming a high-paying, one-of-a-kind Wild Symbol combination.