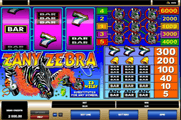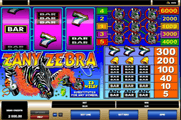 Zany Zebra Free Slots Review
Zany Zebra is a really fun slots game to play. The setup is really easy to understand, and it has a really great visual for what the paylines are. Unlike most online slots games that have the reels take up the whole screen, Zany Zebras only takes up a small section, and utilizes the rest of the screen space for things like a pay table and a breakdown of the payouts. This may seem like a waste of space to some people, but it's how most true slot games are set up in a land casino, so it makes sense that Microgaming decided to develop theirs this way.
This game still features five paylines, which is more than what some other three reel games have, and the graphics are truly fun and exciting. The symbols that are used are very traditional, with lemons, cherries, 7s and of course the single- double- and triple-bar, with the Zany Zebra only making an appearance as a Wild symbol. Three zebras will trigger a big win, but depending on where the land determines just how much of a win you can get!
While this game doesn't have some of bonus games, multipliers and free spins that you may be used to on some multi-reel games, it is still a really fun game. There's still a decent jackpot that can be won. The best part is that you can play this game for a really long time, even if you have a small gambling budget. The maximum bet for Zany Zebra is far less than some minimum bets on other games. What is even better is that the game can be played right here for fun, with endless demo credits. Therefore, players can check out what the game has to offer for them and try it for fun, before they start placing real money bets on the slot game and without having to make any real money deposits.
So get ready to join a fun loving and a party going zebra, the Zany Zebra in this wonderful and highly rewarding 3-reeled slot gaming experience. the game creates this theme through the colorful visuals of the game, the symbols and the Zany Zebra himself who will appear for players right under the spinning reels of the game. So if you are looking for fun game that is rewarding and exciting, then try out Zany Zebra right here for free.