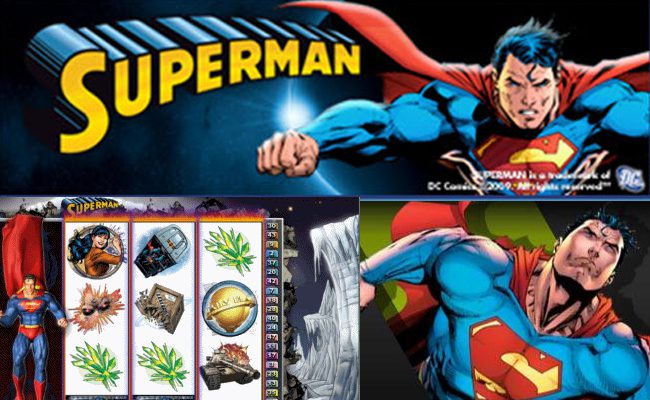 Superman Slot Machine
The Superman Slot Machine is part of the DC branded slot games so if you've played Green Lantern, you'll be fine with this game. You'll notice the game is designed from the comic books so you'll be delighted to see those cool comic book lines, those comic book colors and all other things comic book for your eyes to see. What comic book fan wouldn't be delighted to see their hero in his comic book glory?
The game is designed after the comic book and as such, the symbols show that. From Lois Lane, Lex Luthor, Daily Planet to the glasses of Clark Kent, you're going to like seeing these key elements of the Superman universe being used as symbols. As always, if you make a winning combo of any of the symbols, you'll get an animation that will trigger along with sound effects that make the animation lively.
Cryptologic Games
Betting options are open like all other Cryptologic games. You can bet from the smallest (you can save it all) to the largest (you can risk it all) on all the paylines. It has 50 paylines all in all so this should make some good solid bets if you're going for the $200,000 jackpot. It's nothing life-changing but seriously, can anyone in the world get a $200,000 win? Who knows, it may just be you. You can also up the payline count to 60 if you press the bonus bet. This will change the design of the slot game to a fiery design. Doing this will give you a chance to win more bonus wins. This is a risk that may be worth taking.
Auto play makes an appearance in this game as well. Whether you want to watch your favorite Superman movies, read your Superman comics or go around the block and pretend you're Superman, you can set the game on auto play to make random spins up top 999 times. This may net you some winnings you can never get on your own.
The wild symbol for this game is the hero himself. He'll substitute for any symbol: be it a scatter or bonus so if you happen to get this while needing a symbol to make a winning combo, you're in luck. Oh and if you hit three symbols on the 2nd, 3rd and 4th reels, you'll get 10 free spins. While on these free spins, the reels turn into a mega wild and you'll get random multipliers. This changes the background of the slot game to Superman's cave. Anyone who knows of the cave in the comics will be delighted to know it's in this game.
As always, this game has a bonus round. Get three bonus symbols and you'll unlock the "Save The World" feature. Here, you'll dodge a meteor shower and dodge missiles to chase after Lex Luthor, Superman's nemesis. You'll be hitting random targets and each time you do, you'll get some good wins for the game. The final stage is where you'll encounter Lex himself. Don't worry if you lose; you'll always get a large win. But must you want the largest wins of all, you might as well make it all the way to the finish line. So you'd better make it and kick Lex for those winnings!
Still confused about what to do in this game? Rules and help pages are open at your disposal. The symbols, the values and the rules are all there for you read and grasp. You'll see how to unlock all the good stuff so you can have a chance at hitting Lex for winnings. It may not be much but having a good grasp of everything will help you in the game.
 Superman Slot Machine
Overall, Superman Slot Machine is a fun, fun game. With its good slot design, fun animation and sound, solid gameplay and great bonus features, you too can finally have a chance to play as your favorite tight-wad superhero in his quest to save the world from utter destruction. So, are you worthy of kicking Lex's butt like Superman does? Take your chance with this slot game and find out.
Slots Game Review
Slots Reviews
Review Date
Reviewed Item
Superman Free Slots Edition
Author Rating