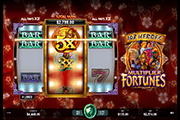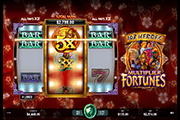 108 Heroes Multiplier Fortunes: Multiplier Tokens and Almost All Icons Can Merge as Mixed Combos
108 Heroes Multiplier Fortunes online slot by Microgaming is totally different from the earlier 108 Heroes game content. First off, this game is built on a 3 x 3 grid and configured with 9 paylines. Although carrying the 108 Heroes theme, images of Chinese warriors represent special Multiplier Values. The Multiplier icons can form winning combinations, and are in fact high-paying symbols. At the same time, they act as Wild Symbols that increase corollary winnings via their respective Factor.
Another significant attribute of the Multiplier totems is the Wild Re-Spin Bonus that they set off. The triggering Multiplier Symbols lock in place during the re-spin. All those involved in completing a winning arrangement will also take part in increasing the related rewards. Another notable aspect is that Multiplier Tokens and almost all other symbols such as the Number 7s and the BAR Symbols, can merge as mixed combos. In fact, any Multiplier Token awards a prize on as few as one (1) that emerges as outcome of a spin.


108 Heroes Multiplier Fortunes: Multiplier Tokens
Four Factors come into view as Wild Multipliers: 5x, 4x, 3x, and 2x. Every value carried by each Wild Multiplier increases the payout of the payline combination that they helped complete. This denotes that If a payline win has more than one Wild Multiplier as components, factors carried by those substituting icons all apply in increasing the payout of that win.
The 5x, 4x, and 3x Multiplier Tokens emerge only in Reel 2. The 2x Symbol takes position in any reel. Nevertheless, Wild Multipliers award top cash rewards when they form a 3-symbol winning payline combination in accordance with the following arrangements:
A 2x + 5x + 2x Win, garners the Jackpot of 10000x the Coin Bet
A 2x + 4x + 2x Win, awards 5000x the Coin Bet
A 2x + 3x + 2x Win, pays 3500x the Coin Bet
A 2x + 2x + 2x Win, bestows 2500x the Coin Bet.
108 Heroes Multiplier Fortunes players can also reap rewards on any pair of Wild Multipliers occurring along a payline. A 2x Multiplier Wild in Reel 1 pairing off with a 5x, 4x, 3x, or another 2x in Reel 2, garners cash prizes equivalent to 20x, 16x, 12x or 8x the coin bet, respectively.
Actually, players earn pays even with just one (1) Wild Multiplier Token. A 5x, 4x, 3x, or 2x Multiplier icon in Reel 1, correspondingly awards 5x, 4x, 3x, or 2x the Coin Bet.
108 Heroes Multiplier Fortunes : Wild Re-Spin Bonus
In addition to the cash rewards bestowed by Wild Multipliers that converge as winning elements, a Wild Re-Spin Bonus could also be awarded. However, it takes at least two Multiplier Factors of any kind in Reel 2, to activate the Wild Re-Spin Bonus.
During the free-turn, Reel 2 freezes to lock in place the triggering Wild Multipliers, while only Reels 1 and 3 will spin to produce new elements.
If the Re-Spin results to a win, the feature doubles all corresponding payouts, including those completed thru Wild Multiplier representation/s.
108 Heroes Multiplier Fortunes : Non-Wild Regular Symbols
The traditional Number 7 and BAR symbols occur as low-win, regular paying icons. The Number 7 comes in two variants; a Red 7 and a Blue 7. They award corresponding pays of 40x or 35x the Coin Bet. A mixed-combo payline win comprising any of the Number 7 icons, awards 15x the Coin Bet.
The BAR Symbols come around as 3-BAR, 2-BAR, or simply BAR images. They accordingly bestow 25x, 15x, or 5x the Coin Bet on a 3-of-a-kind payline win. Any BAR variant and/or Blue 7 icons aligned in a payline also earns a reward of 3x the Coin Bet.