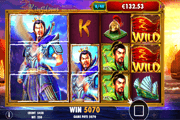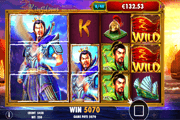 3 Kingdoms Battle of Red Cliffs : 3 Collectible Warlord Icons Work Toward Winning a Progressive Jackpot
3 Kingdoms Battle of Red Cliffs online slot by Pragmatic Play, created exclusively for Leo Vegas Casino, depicts the historical battle between 3 ancient Chinese Warlords. The Red Cliffs Battle touted as the largest naval battle in the history of China, involved the southern Kingdoms of Shu and Wu against the northern Kingdom of Wei.
In this 3 Kingdoms online slot, the alliance between Southern Warlord Liu Bei and Sun, and their battle against Northerner Cao Cao, is illustrated in the Free-Spins Round. The Stacked Symbols of the three (3) main characters can become Wilds as a single feature, as a pair, or altogether, in any one of three (3) Bonus Game Types. Another depiction of the Red Cliffs Showdown is by way of the Spoils of War Progressive Feature. Available only during paid spins, this segment sets off once players have amassed 40 points, earned via the simultaneous emergence of all three Warlords.
The Red Dragon Flag of the victors Liu Bei and Sun flies high in this game as the Wild Symbol. It appears in any reel. When aligned with identical symbols in the same payline, it can complete or lengthen a matched grouping.


3 Kingdoms Battle of Red Cliffs : Spoils of War Progressive Feature
During base game spins, all three Warlord images occurring as simultaneous outcomes garner one (1) point. Collecting 40 points total activate the Spoils of War Progressive Feature. A Progressive Jackpot, starting at zero balance, increases by 20% of the bet staked per spin during a continuous play. In the event this feature is triggered, 3 Kingdoms slot players will select one of eight (8) envelopes containing a 2x, 4x, 6x, 8x, 1x, 20x, 50x, or 100x Multiplier. The revealed multiplier will then apply to increase the Progressive Jackpot won.
3 Kingdoms Battle of Red Cliffs : Free Games
The image of a Palace represents the Bonus Game Scatter Symbol, which appears only in Reels 1, 3, and or 5. When all three (3) reels return after a spin with a Palace Scatter, the Battle of Red Cliffs Free Spins Round activates. Three (3) choices will be presented as gaming options, with each choice awarding a different set of free games enhanced by one (1), two (2) or three (3) Extra Wilds.
The Vanity Free Games – award 20 Bonus Spins played on reels in which Orange Warlord icons taking positions in Reels 2, 3, 4, and or 5, convert into Red Dragon Flag Wilds.
The Intrigue Free Games award 10 bet-free spins. Here, the Orange and the Green Warlord totems, both turn into Extra Wilds in similar reels.
The All Out War Bonus Games award 5 free-spins, in which all three (3) Warlord images (Blue, Green and Orange) turn into Extra Wilds when appearing as outcomes.
Another set of winning Palace Scatter combination occurring during the free games, activates the bonus round anew. The fresh round carries on with the same number of bonus spins and Extra Wilds.