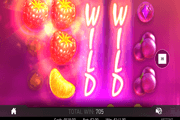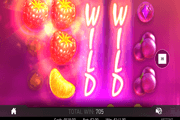 Berry Burst Online Slot: Land Max Hits via Wilds that Automatically Expand and Set Off Respins
Berry Burst online slot is the first of NetEnt's new Max Hits gaming concept, bringing frequent rewards via Cluster Pays. Players can extract juicy payouts on 5 or more alike images, converging vertically or horizontally in adjacent grid positions. The Raspberry for one, oozes with awesome win-credits. Its payout range starts at 30, reaching up to 10,000 credits, when 5 up to 15 clustered Raspberry icons make a hit.
Collecting Cluster Pays gets easier once a Wild Symbol is in place. Every emerging Wild Symbol expands; furnishing 3 eligible icons that can instantly cluster with 2 or more alike images on either side.
Even if this Berry Burst game does not have a Free-Spins Round to offer, every Wild occurrence activates a respin of the non-Wild reels. If the free roll produces another Wild, the remaining non-Wild Reels respin anew. If luck is on a player's side, respins may continue and turn all 15 positions into a mega cluster hit; garnering the maximum payout of the winning symbol.


Berry Burst Wild Symbol
Initially appearing as a Gold Nugget with a W emblem, the image instantly expands into an full-reel WILD signage. The Gold Nugget may even land on more than one reel via a single spin. Once the icon expands to cover an entire column, 2 or more alike images positioned next to the Wild Reel can complete or expand a Cluster Win.
If by some stroke of luck, all 5 Reels return after a spin with Gold Nugget W icons, then all columns transform into Wild Reels. A whopping 10,000 win-credit will then be awarded as payout.
Berry Burst Online Slot: Respin Feature
After one or more Gold Nugget icons expand as a Wild Reel, all Cluster Pays attributable to that particular outcome will be evaluated. The Respin Feature will then carry on by rolling the non-Wild Reels, whilst holding any Wild Reel in place.
If the Respin produces another Gold Nugget W, Wild Expansion and Respin actions continue. Again, a new W icon landing as respin outcome will roll the remaining non-Wild Reels; likewise producing a fresh set of symbols that will cluster with all existing Wild Reels. All Cluster Pays garnered from each Respin, will then constitute winnings of the paid spin that produced the first Gold Nugget W icon.
Berry Burst Online Slot: Betting Choices
Coin Values available as betting options are between 0.01 to 2.00.00. The Bet Value per spin, is established by also choosing a Bet Level. Players can either increase the Coin Value or raise the Bet Level to configure the wager per spin.
Bet Levels range from 1-10, which starts with 10 coin credits at Level 1. Each level thereafter increases the number of coins by 10. At Bet Level 10, the number of coins that will multiply a chosen Coin Value, is 100.
This betting scheme therefore gives betting choices ranging from 0.10 (0.01 x 10 coins) at the least, up to a maximum of 200.00 (2.00 X 100 Coins) per spin.