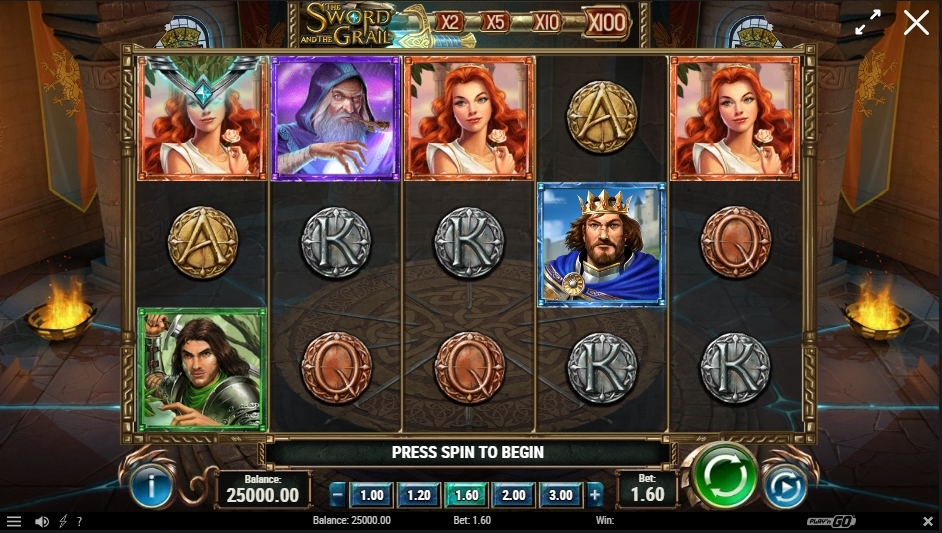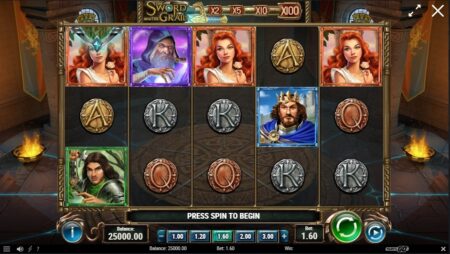 Pros
Engaging Arthurian theme
Generous free spins feature
Highly rewarding multipliers
Impressive graphics and sound
Cons
High volatility may not suit all players
Complex stage progression may be confusing for beginners
Lack of additional bonus rounds

The Sword and the Grail Slot a Medieval Quest for Big Wins
You don't need to be a history buff or an Arthurian legend fan to appreciate the thrill that "The Sword and the Grail" offers. This 5-reel, 20-payline slot from Play'n GO is a journey through medieval themes, boasting characters like King Arthur, Lady Guinevere, Sir Lancelot, and the enigmatic Merlin. Your journey is one of rising ranks—from a humble squire to a knight—and potentially winning significant sums of money.
This game offers you 20 paylines on a 5×3 reel structure, requiring you to match at least three symbols to secure a win. You'll be searching for the Holy Grail—serving as the game's Wild symbol—and the Excalibur, the game's Scatter symbol. The Grail can substitute for any other symbol, making it easier to win, and even comes with a magical multiplier. On the other hand, if you land three Excaliburs on your reels, you activate the game's free spin mode, which is the ticket to substantial wins and multipliers.
Sword and the Grail Gameplay Features
The Holy Grail and the Multiplier
The Holy Grail serves a dual purpose in this game. Not only does it substitute for other symbols, but it can also come with a multiplier. Imagine the Holy Grail working its magic to increase your win—talk about a Wild symbol on steroids!
The Excalibur and Free Spins
You can't discuss this game without mentioning its free spin feature, activated by landing three Excalibur swords. Initially, you'll receive five free spins, but that's not all. Your goal should be to collect more swords to advance through stages. Each new stage you reach provides additional free spins and adds a multiplier to any Wilds you get during that stage.
Progress Through Stages
The game boasts four distinct stages, each offering additional free spins and a corresponding multiplier for any Wilds you land. Stage one starts with a x2 multiplier, which leaps to a x5 multiplier in stage two. If you make it to stage three, expect a x10 multiplier, and the legendary x100 multiplier awaits you in stage four.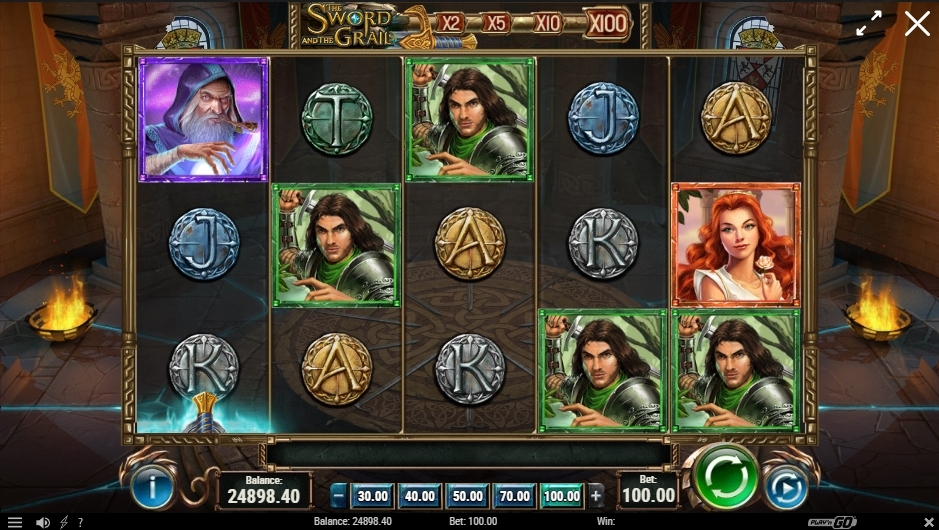 "The Sword and the Grail" distinguishes itself with its thematic commitment and well-designed gameplay mechanics. The graphics are crisp and transport you to a different time, and the sound effects are nothing short of immersive. More than just eye candy, the game offers a unique multi-stage playthrough that keeps you invested.
From the get-go, you're given the quest of collecting swords, aiming to transition from a lowly squire to a powerful knight. The free spins and multipliers can change your fortune dramatically. The need to collect swords to advance in stages builds a layer of anticipation that is rarely seen in slots. You feel a sense of progress that's often lacking in similar games. It's like an adventure unfolding before you, one spin at a time.
That said, the game may not be for everyone. Its high volatility makes it a risky venture for those looking for smaller, consistent wins. And while the multi-stage aspect is exciting, it also creates complexity that may be daunting for new players. You can easily find yourself lost in the various stages and multipliers if you're not careful. The free spin mode is the game's cornerstone, but it's the only special feature available—something to consider if you're looking for multiple ways to win.
However, if you're in for a slot with a story to tell, one that requires a bit of skill and a dash of luck, then this is a game worth your time. The high multipliers make for a thrilling experience, with the x100 multiplier in stage four offering a potentially massive payout.
Summary of Sword and the Grail Demo
"The Sword and the Grail" is an exciting journey through Arthurian legends with a unique take on free spins and multipliers. The multi-stage system keeps you engaged, adding depth to the overall gaming experience. Its high volatility makes it an excellent choice for those who can weather some losses in pursuit of massive wins. A definite must-try for both new and seasoned players.