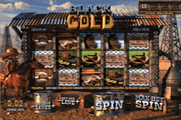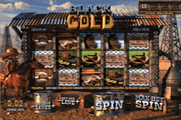 Black Gold Free Slots Game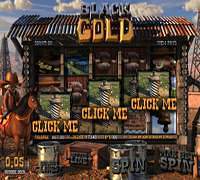 What is Black Gold? Black Gold refers to oil, it is black and it is as expensive as gold. This is exactly what this game is themed around. It is about black gold, or oil extraction and this is why players will enjoy a very rewarding and a lucrative experience, maybe not as rewarding as extracting oil, but certainly a rewarding experience. So you better be ready for a one of a kind 3D gaming experience that takes you to the wild west, deep in the south where the oil business is thriving. Players will join a Texan oil king as he searches for oil in the america lands. players will not only join the Texan business tycoon for a fun ride that is full of Black gold, as they will also be able to claim their own share of the great prizes and rewards that the 3D video slot machine has for players.
Players can enjoy this game here for free with practice credit or they can head to Mr. Green Casino, one of the best casinos that are powered by Betsoft, in order to enjoy the game there for real money. The game follows the standard format for 3D Betsoft games with five reels and 30 betting lines that players can put their bets on.

Since the game is themed around oil or black gold, players will see that the symbols of the game as well as the control panel and the wagering area of the game. The wagering area is where players will choose the coin size, the number of paylines that they wish to activate and the number of coins they want to place on every single payline. The game has a very wide betting range that starts with 0.01 and ends with 150 credits per spin.
The symbols appearing on the reels include a wooden box, a valve, a stack of cash underneath a cowboy hat, cowboys and a no trespass sign. The game has plenty of unique features and bonus rounds that players can take advantage of during playing. One of these bonus rounds is entitled Drilling for Oil. This bonus is a click me kind of bonus which allows players to earn instant cash prizes. They all come in high quality and well designed 3D graphics that offer players a one of a kind gaming experience that is immersive and fun and rewarding at the same time.