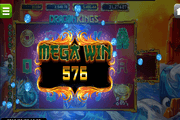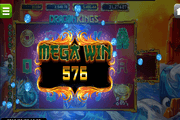 Dragon Kings Online Slot: Array of Dragon Icons Creates Special Win and Pay Boosting Effects!
Dragon Kings online slot by Betsoft, harnesses the might of Dragon Symbols to create powerful game changing effects. Five (5) Tarragon images, distinguished by Azure (Blue), Red, Black, White and Yellow-Gold colors, possess different win-boosting effects. Under varying circumstances, color-coded Dragon Symbols occurring in specific combinations, can also trigger the release of one (1) of four (4) Jackpots. Generally, any Dragon image is a Wild Card that can help compose or lengthen any of 10 paylines.
A Magical Dragon Pearl appearing concurrently with a Dragon icon, doubles the effect of the win boosting trait brought on by the latter. This valuable Dragon Pearl though emerges only in a single-cell reel attached to the right side of the grid. Otherwise, other Dragon Pearls appearing in the 3×5 grid, act as Bonus Symbols that can trigger a round of free-spins.


Dragon Kings Online Slot: Dragon Wilds
Collectively called in this game as "Dragons of the 4 Seas", each type of Dragon appears in a specific reel. When landing as outcome, it unleashes a power-up element that may bring rewarding results. It is possible for a spin to produce more than 1 type of Dragon Wild. Every type in view, will then add or create changes that improve spin results.
Azure Dragon
This Wild icon is exclusive to Reel 1. When in view, a respin transpires. At the same time, all Dragon images concurrently in view, stay glued to their respective reel. Now if the respin produces a new Azure Dragon, another free turn with Dragon-locking power, will roll all non-Wild positions. Since a reel comprises 3 tiles, up to three (3) Respins may happen in succession.
Black Dragon
A Wild Symbol emerging only in Reel 2, and it comes with a 3x multiplier. A Black Dragon completing or lengthening a combo into a payline win, triples the reward garnered by the arrangement.
Yeĺlow-Gold Dragon
This Wild is actually the titular Dragon King. Aside from expanding into a full image when appearing in Reel 3, it also comes with a 2x Multiplier. All segments of the expanded Dragon King Wild can help complete payline combos, and at the same time double the related payouts.
White Dragon
White Dragon Wilds occur only in Reel 4 and expand to an adjacent position, on their left or right side. II locked in place during a Respin triggered by the Azure Dragon, White Dragon Wilds will likewise continue to spread out.
Red Dragon
When emerging in its Reel 5 realm, a Red Dragon generates a random instant Bonus of up to 400 times the current value of the Line Bet.
Instances in which one or more Dragon Wilds appear concurrently with a Magical Dragon Pearl in the tail-end reel, are significant. In such cases, any bonus or power-up element added by Dragons in view, doubles in value or in numbers.
If by chance, an entire set of the "Dragons of the 4 Seas" occur as outcomes of a single spin, a 2000-coin win will be awarded.
Dragon Kings Online Slot: Free Games
A scattering of 3, 4 or 5 Dragon Pearls across the 3×5 play area correspondingly sets off 6, 10 or 15 Free-Spins. Now a Magical Dragon Pearl can double the numbers , if it is also in view in the Extra Reel.
Ordinary Dragon Pearls remain active as elements of the bonus game grid; giving players fresh opportunities of kicking off another free round. The same is true with the "Dragons of the 4 Seas," and the Magical Dragon Pearl. Those special icons will still emerge to improve bonus-spin wins.
Dragon Kings Online Slot Jackpots
The main Jackpot element is the Reel 3 Dragon King. When combining with Dragons in varying colors and numbers, along with the Magical Dragon Pearl, the combo will unleash the following:
Bronze Jackpot – Unlocking this Jackpot requires at least one (1) concurrent Dragon.
Silver Jackpot – This prize requires 2 concurrent Dragons in different reels.
Gold Jackpot – To win this prize, a minimum of 3 Dragons in varying colors must appear in combination with the Dragon King and the Magical Dragon Pearl.
Diamond Jackpot – is awarded if a complete set of the "Dragons of the 4 Seas" plus the Magical Dragon Pearl, are all present.