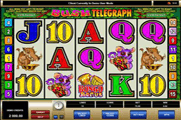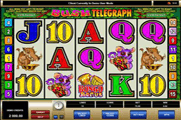 I absolutely base what slot game I'm going to play off of my moods. There are plenty of times that I want to play a game that has some kind of a theme, and adventure even. There are plenty of those out there, and it can be a lot of fun trying out the newest one of those. Most times I play a slot so that I can get the experience of a real live casino without leaving my home. Most of the time, I get this feeling when I play something that isn't really flashy, doesn't have a strong story line or theme, and may or may not have a bunch of extras like wilds and free spins. It can be really easy to find three reel slots like that, but I'd much rather play a five reel.

That's why I'm so excited about Bush Telegraph by Microgaming. There is a slight theme, with the bush creatures as certain icons, but the colors and abundance of 10's through Aces really makes it more casino-like and more fun. I like that there's not too many different things to keep up with, and fifteen paylines is just enough to make it interesting without really confusing you. Therefore, the game is highly recommended to players who are looking for a simple game that has an easy interface with an easy to follow game play. This criteria is usually attached to 3 reeled games, but Microgaming has created a 5 reeled game that is fun and exciting t play, and as easy as simple in every aspects like classic 3 reeled slot machines.
I really don't mind that it has all the bonuses, in fact, I could do with a few less. I've never been a fan of multipliers. I can actually count on one hand the number of times I've won anything significant off of those. They generally seem to cause me more stress than euphoria, but I'm sure I'll change my mind about them as soon as my luck changes.
You too can check out the game to see it for yourself right here for fun. This is because the game is available here for free with demo credits so you can take it for a test drive and see if it is to your liking before you start placing real moneys bets on the video slot machine at online casinos that host it for real cash.