User Rating: Be the first one!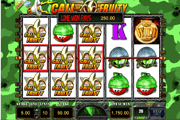 Call of Fruity Online Slot: Engage Delightful Fruit Soldiers in Fun and Rewarding Bonus Games!
Call of Fruity online slot by Barcrest/SG Interactive furnishes not only the thrills of winning on matched icons lining up in 10 fixed-paylines. The game also has three (3) entertaining interactive Bonus Features.
Two of which are Pick and Click Bonus Games that award guaranteed wins via Total Bet Multipliers. The third feature awards a single free-spin, played on bonus reels in which the 3 center reels display purely Stacks of Wild Symbols. The greater the amount staked on the spin that activates any of the Bonus Games, the likelier the chances of hitting amazing Big Wins!
Landing on matched combination/s on any payline is lucrative as well. The Call of Fruity game logo is the highest paying regular symbol. Two, 3, 4, or 5 matched Logo icons, correspondingly award x2, x50, x150, or up to x250 of the coin value staked per line. The adorable Fruit Soldiers pay just as handsomely. Their payouts range from x50 to x150 on every 3 or more one-of-a-kind symbols. Yet the icon that awards the highest pay is the Wild Symbol, as it can form its own payline combination.
Call of Fruity Wild Symbol
A Medallion marked as Wild appears on any row or reel. The symbol can be used as alternative icon, if to form or expand a payline win. The identical symbols, however, must be positioned in the same payline as the substituting Wild. Wild Symbols appearing in groups of 2, 3, 4, or 5 in any payline, award x2, x60, x200, or x500 of the coin value staked per payline.
The odds of landing on Wild combinations are great in the Fly-By Bonus Game. Although a single spin will be awarded as Bonus Reward, Reels 2, 3, and 4 are completely stacked with 3-tile Wild Reels.
Call of Fruity Online Slot: Fly-By Bonus Game
An image of a fully geared-up Fruit Soldier represents the symbol that may activate the Fly-By free-spin. It emerges only in Reels 2, 3, and/or 4. Once activated, Fly-By Bonus Players receive one (1) free spin.
The free turn will then be played on a set of reels configured with full-stacks of Wild Symbols already in place in Reels 2, 3, and 4. The reel-spinning action therefore will involve only Reels 1 and 5. Any resulting payline matches will be the Fly-By Bonus Rewards.
Call of Fruity Online Slot: Pick and Click Bonus Games
The Pineapple Hand Grenade icon triggers the first Pick and Click Bonus Game. The symbol comes into view only in Reels 1, 3 and/or 5. If after a spin, all three reels return with a Pineapple Hand Grenade in any position, a "Pick Me" prompt will be added to each icon. Clicking on one will reveal either a Total Bet Multiplier or entry to the main Pick and Click Bonus Feature, the Bombsight Bonus.
The Bombsight Bonus is an interactive game segment, in which players select a bunker on which Fruit Paratroopers land one at a time. All bunkers hold a mystery multiplier. Any factor unraveled will be eliminated from the list of multipliers available as potential bonus rewards. The smaller the factors eliminated from the list, the likelier the chances of reaping higher wins.
Still, after every 3 Picks, and on 3 instances, the game will give players the option to continue vying for the top x100, x150 or x500 multipliers; or, to accept a value multiplier nearly as high as the remaining top multipliers, but at the same time end the Bombsight Bonus.
Call of Fruity - Adorable Fruit Soldiers Deliver Total-Bet Multipliers Resulting to Amazing Big Wins!
Call of Fruity, is a fun and rewards-filled Barcrest/SG Interactive online slot. It features 2 Pick and Click Bonus Games that award guaranteed cash prizes by way of Total Bet Multipliers and a Free-Spin Bonus launched on two reels, as 3 reels are pre-filled with Wild Symbols.