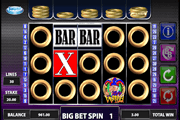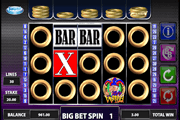 Cash Stax Online Slot – Golden O's Deliver Free-Spins in Abundance!
Cash Stax online slot by Barcrest furnishes a different kind of real-money betting thrill by featuring only three (3) reel icons as regular-paying symbols; the Lucky Number 7, the BAR and the X. Now take note of the White O's filling up the 3-row, by 5-column slot game. Every O Symbol can become a Golden O. Watch what happens if a spin outcome has at least one Golden O in all five (5) reels.
Deployed to online casinos by online gambling games provider SG Interactive, this Cash Stax slot may be played with 10, 20, or 30 active paylines.


Cash Stax Online Slot: Betting Options
In this game, slot players have the option to play for 10, 20, or as many as 30 paylines. A reel-spinning session played with stakes per spin of 0.10 up to 1.00, will have 10 active paylines. Those who prefer to play with higher stakes, starting at 2.00 up to 400.00 per spin, will have 20 active paylines running through the reels.
The third option is to play via the Big Bet Mode, with which a 10.00 or 20.00 Bet collectively covers five (5) spins, launched on a reel-board configured with 30 active paylines.
Consider that the greater the number of paylines in play, the greater the number of potential winning positions in which only three (3) icons may land as winning combos. Consider also that a Joker Symbol comes into view occasionally to pose as Wild Card. A single Joker Wild Symbol can help complete multiple identical 7, BAR, or X combinations in paylines in which a Joker Wild icon is active.
Cash Stax Online Slot: Reel Symbol Features
The Number 7 may prove to be a lucky reel symbol, being the highest-paying icon of the game. Its payout values though, likewise depend on the amount of Bet staked per spin. Since a less than 2.00 bet has only 10 paylines, 3, 4, or 5 Number 7 icons correspondingly award x2, x10, or up to x50 the Bet per payline. If 20 paylines were activated by 2.00 or higher wager per spin, Number Seven combos earn x1, x5, or x25 the Bet per payline.
When played with either a 10.00 or a 20.00 Big Bet per 5 spins, the Number 7 pays x0.1, x0.5, or x2.5 the Bet per payline, accordingly. The payout schemes for the BAR and X symbols follow the same method, albeit for lesser values than those of the Number 7.
The Joker, the White, and the Golden O symbols have no pay equivalent when appearing as spin outcomes, even as matched-symbol groupings. Yet the occurrence of at least one (1) Golden O in each reel or at least five (5) after a spin, initiates the launch of a Free-Spins Bonus Game.
Cash Stax Online Slot: Free-Spins Bonus Game
An abundance of bet-free games may be awarded as bonus round. The number of Golden O's in place upon initiation of the bonus game determines the number of bonus spin rewards.
Cash Stax players can check this out via the special cache at the top of each reel. The Golden O's collected in all caches will be used to fill up the Free-Spins Meter. Lucky players who triggered the bonus round with enough Golden O's to fill up the Free-Spins Meter up to the highest level, will also gain a 5x bonus-win multiplier.
During the round, if all caches holds at least one Golden O, the free games will be retriggered. The number of Golden O's that filled up the Free-spins meter will again determine the number of additional spins retriggered.