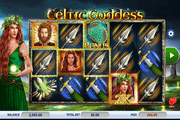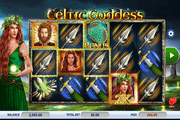 Celtic Goddess Online Slot: Goddess Feature and Wild Multiplier Bring Enchanting Wins!
Celtic Goddess is a 30-payline online slot created by 2×2 Gaming for the Microgaming platform. The game features a Celtic beauty who has the power to alter low-win card suits into a single type of high-paying icon. During base plays, her magic rune lights up occasionally to select a symbol that will replace all card suit symbols. In free rounds, such an occurrence transpires with certainty after every spin. Changes though, do not guarantee win outcomes. Yet if the high value replacements complete multi payline matches, the modified outcome will definitely bring significant winnings.
Another Celtic Goddess element that boosts chances of reaping bigger wins is the Wild Symbol. Already helpful as a joker card that can represent any regular icon, Wild Symbols also boost payout values. Each Wild icon comes with a 2x win-multiplier. Now if 2 Wilds helped complete a payline win, the multiplier value increases to 4x (2 . 2x).


Apparently, the fictional goddess lives among mortals, taking form in this game as one of the high-paying elements. An occurrence of 3, 4 or 5 of her mortal form in any payline, draws a payout equal to 30x, 100x or 300x the Coin Bet.
Another high-win image is that of a Male Mortal, presumably the reason why the goddess assumes mortal form. A payline win completed by 3, 4 or 5 Man icons, bring 40x, 125x or 500x the Coin Bet; actually the highest awarded by a regular symbol. Moreover, Male Mortal icons randomly come into view as tiered-images; partly or fully visible as Stacked Symbols in one or more reels.
Celtic Goddess Wild Symbol with Multiplier Feature
Images of the Celtic divinity pose as Wild Symbols, albeit emerging only in Reels 2 and 4. Like the high-win Male Mortal icon, Goddess Wilds may emerge as Stacked Symbols, but only in the aforementioned reels.
A Goddess Wild completing a payline win automatically increases the resulting payout with a 2x Multiplier. Now if by chance Goddess Wilds present in Reels 2 and 4 completed a single payline arrangement, the payout Multiplier increases to 4x.
Celtic Goddess Symbol Replacement Feature
Once in a while during an ongoing base game spin, the magical rune held by the Celtic Goddess, lights up. It will then go through a process of randomly selecting a high-win symbol. Once all reels return with their final display of images, the randomly selected high-paying symbol will replace every card suit icon in view.
This Goddess Feature creates greater impact during free rounds, because symbol replacements will occur after every bonus spin.
Celtic Goddess Free Games
The magical rune can also set off a round of free games, as the image occurs in reels as a Scatter Bonus Symbol. Three, four or five of the Green Rune icons scattered across the grid, correspondingly unlocks 8, 12 or 16 Free Spins. At the same time, a Scatter Pay amounting to 1x, 2x or 10x the Total Bet will be awarded.
Green Runes though will no longer appear as outcomes of bonus spins; barring any possibility of setting off another round of free games.
Nonetheless, the Goddess Feature optimises every bonus spin; greatly enhancing possibilities of drawing high-value winnings on every free turn. At the same time, Goddess Wilds that will take part in completing a winning arrangement will continue to apply a 2x or 4x payout multiplier.