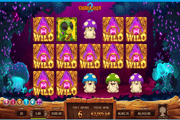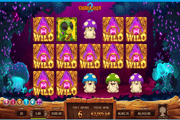 Chibeasties 2 : Yggdrasil Brings a New, More Powerful Breed of Chibeasties!
Chibeasties 2 is Yggdrasil's sequel to an earlier Chibeasties online slot that features fictional extraterrestrial-like creatures living in some unknown forest. Here, the charming big-eyed monsters have more than adapted to their new environment, as they have even established four (4) different realms. Each realm represents a playing field in which Chibeasties characters and colourful mushrooms land as matched groupings, as well as interact with Wild Symbols to complete winning arrangements.
The four realms are captioned as Mirroring, Expanding, Spreading, and Teleporting; aptly describing a related Wild Booster. Chibeasties 2 players can play in one Realm at a time; but they can shift to another by clicking on the Rune located above the SPIN icon during base game sessions. Still, this game has a Mutation Feature that makes it possible for players to experience a combination of two types of Wild Boosters. During base game spins, the Mutation Feature occurs arbitrarily. In the Free Round, the Combo Wild Mutation occurs every time a Wild icon appears.


Chibeasties 2 Online Slot: Realm Wild Boosters
A specific Rune powers up a Realm; the Red Rune activates the Expanding Realm, while the Purple Rune sets off the Mirroring Realm. The Green Rune powers up the Teleporting Realm, while the Blue Rune turns on the Spreading Realm. Whenever a Wild Symbols appears after a spin in any play area, additional Wilds will improve spin outcomes in a realm-specific manner:
The Expanding Realm – Here, a Wild Symbol that emerges spawns additional Wilds to cover the entire column in which it appeared.
The Mirroring Realm presents a Chibeasties 2 playing field with an axis where Wilds will be replicated if an emerging Wild lands on that area. A Wild Symbol that takes position in any axis line produces a duplicate. If the Wild icon lands on an intersection, the axis will mirror two additional Wild icons.
The Spreading Realm features a Wild Symbol that creates one (1) up to four (4) Wilds that spread to random positions across reels.
The Teleporting Realm produces a Wild Symbol that transfers to another position if doing so will produce the best outcome.
Chibeasties 2 Online Slot: Mutation Combo Wild Feature
The Mutation Combo Wild Feature is available in all Realms. After any base game spin, the feature may occur after a Wild has performed its related Wild-boosting attribute. Once the triggering Wild has added the additional substitute symbols, the Mutation Feature activates another Rune Wild Booster to expand, mirror, spread, or teleport the original Wild icon.
Chibeasties 2 bonus-game players have great chances of striking Big Wins during Free Games, because the Mutation Feature is guaranteed to take effect every time a Wild comes into view.
Chibeasties 2 Online Slot: Free Games
A Brown Chibeastie with a Free-Spins label appears in any reel. When five, four, or three Free-Spins Chibeastie images are simultaneously in view across the slot board, 30, 15, or 7 bet-free spins will be awarded. In the event that another group of 5, 4, or 3 Free-Spins Chibeastie icons land as outcomes of a bonus spin, another round of free games will be awarded. The number of spins awarded will again be based on the number of Free-Spins Symbols that retriggered the bonus feature.
Here, all Wilds appearing after a bonus spin turns on the Mutation Combo Wild Feature. A random Wild Booster will combine with the Wild Booster of the Realm in play.