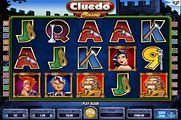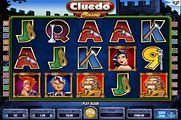 Cluedo Classic Slots Online
If you are a fan of the classic popular game of Clues or had any experience with any of the spin-off games, then you will surely recognize plenty of the aspects of the slot machine and will truly enjoy the experience and the theme that it has to offer.  The game likes to keep everything simple, this is why it has only 2 bonus rounds, but they are high paying ones. It has a wild feature and a very unique bonus feature, the Who Won it bonus. Apart from the great rewards that players can earn through the wild icon and the bonus feature, there are plenty of line payouts that are given to player who succeeds in getting from 3 to 5 matching symbols on any of the activated paylines. Players will be able to find all about these line payouts and the special symbols at the paytable of the game.
Five Reels and 20 paylined slots Online
Even the format of the game is simple as it has five reels and 20 paylines. If players want to change the default wager and would like to place their own, they will be able to do that through the betting options at the bottom. Like most IGT games, players will find two options that they can go through, the number of lines and the number of coins they want to place on the lines (line bet).
On the reels and lines of the CLUEDO Classic slot machine, players will see symbols such as Miss Scarlet Mrs. Peacock, Professor Plum and Mrs. White and murder weapons such as a candlestick, a lead pipe, a revolver, rope and a dagger. All of these weapons come on top of poker card symbols as they represent the low paying symbols of the video slot machine. The game comes paired with classical music and a fun interface so it basically has everything for both, seasoned fanatics as well as novice players who are looking for some fun.
The wild icon of the game is the newspaper. This symbol will be able to increase the chances of winning for players drastically by substituting for any of the other symbols in order to form a better and a higher paying combo. This wild symbol can appear anywhere and it can replace all symbols except the other special symbol of the game, The Who Won It icon.
Speaking of which, the Who Won It Icon is the bonus symbol. Players who get a minimum of three symbols on the reels will be able to trigger the high paying bonus feature of CLUEDO Classic. This bonus feature gives players 15 free spins on the slot machine with a multiplier of 3x. That is not all as the free spins round can be re-triggered and players can keep winning free spins with a maximum of 180 spins, which gives players the chance to win thousands of coins.
[/CBC]