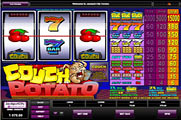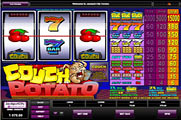 Couch Potato slots for Fun
Couch Potato is a word that described lazy people who just stay on their couch doing nothing while watching TV. Although to some, it might be offensive, but not when it comes to this slot machine, as this game invites players to be "couch potatoes" and stay on their couch or their compute desks so they can make money while relaxing and chilling. They can do that by earning the great pays that Couch Potato has to offer them. All what is needed is for them to place bets and then spin the reels so they can start forming winning combos so they can start claiming the payouts that the game has.

Slots For Fun with an Amazing theme
Since the game is themed around a Couch Potato, players will see a lazy potato chilling on the couch flipping through the channels on the TV. Apart from that, players will also see the logo of the game "Couch Potato" as one of the symbols that land on the reels of the game. Other symbols include some of the classic slot machine symbols such as the 1 bar, 2 bar and 3 bar symbols as well as cherries, blue sevens and yellow sevens. These symbols will appear scattered on the three reels of the game and the one single payline that it offers. This payline is found in the middle of the game's reels, it is where players will have to pay attention because the symbols that land on this payline are the ones that really matter. When players get winning combos on this payline, players will be able to earn a payout.
Players can check out the different rewards that they can earn through this game at the paytable of the game which is located at right hand side of the screen. It shows all of the different combos that would make players eligible for a payout as well as well as the respective reward for each combo. Some symbols have to appear in 3s and some will pay players in other ways.
The highest award that can be earned at this game is given to players through the logo of the game, when three logos land on the reels, players can earn from 2000 to 15000 coins, depending on the number of coins that they have placed. The logo of the game is also a wild icon that will substitute for other symbols and multiplying the payouts by 5x and 25x.