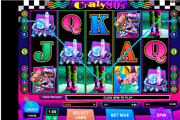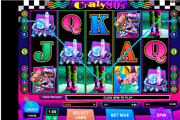 Crazy 80s A Microgaming Slot Tribute to the Pop Culture of the 80s
Crazy 80s is Microgaming's slot tribute to the pop culture well known to millennial online gamblers, using 80's inspired images that give a brief peek of the era's fashion. Even the background music is reminiscent of a decade when rock bands like Duran, Duran, pop music group Culture Club, and pop singer Madonna, were the hottest music and fashion influences of the era.
The presentation of the iconic eighties fad, doodads, and frills is not as realistic looking as the more modern form of computer graphic rendering. Still, they succeed in stirring up memories of the fashion follies that fascinated the youth of the 80s.

Crazy 80s' highest paying reel-symbol for one, is the image of a Cool Chick in a colourful get-up perfect for a night out at the disco. A player stands to receive the most number of coin rewards offered by the game, if a spin returns with five of this symbol on an active payline. It has a paytable equivalent of 6,000 coins, which the game multiplies by the number of coins wagered on the winning payline, when determining a player's reward.
The 5-reel and nine-payline slot's main reward enhancing features are the Wild and the Scatter Symbols. Wild Symbols, are of course significant because they can be used as substitute for regular icons when completing a payline combination. The Scatter Symbol on the other hand, has an equivalent payout value. Scatter icons pay even if a combination formed do not occur on, or even follow, an active payline pattern.
Stepping Up the Crazy 80s Slot Gaming with Wild Symbols
The Wild Symbol of this game is represented by another 80s element, the Boom Box. Although introduced during the seventies, the popularity of this musical apparatus soared in the 1980's when hip-hop and break dancing were usual street attractions. The Boom Box Wilds of this game appear on reels two, three, and four, and their occurrence on active paylines can increase a player's chances of completing a winning combination.
The Crazy 80s Scatter Symbols
This Microgaming online slot added a bit of animation with its Scatter Symbol presentation. A pair of dancing feet evocative of the hit movie "Flashdance," represents the game's Scatter Symbol. A spinning action that produces three or more of those dancing feet, generates additional rewards of up to 100 coins multiplied by the bet that triggered the Scatter Pay. Players will instantly notice a Scatter Pay occurrence because all Scatter Symbols appearing in the reels launch a quick dance animation.
The Crazy 80s game has no Free Spin round or a mini bonus game, which is fine for those who prefer to engage in a slot game that offers rewards via straightforward reel spinning actions.