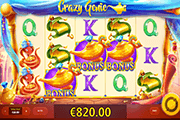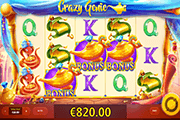 Crazy Genie Online Slot: Genie Fulfills Bonus Wishes via Instant Wins and Multipliers!
Crazy Genie online slot by Red Tiger is definitely a must-play online casino content. Players wishing to land Big Bonus Wins will likely find fulfillment once they get to play any of 5 Crazy Bonus Games. Major Rewards are mostly Multipliers that multiply. Increments have potential to reach a value as high as 1179x. Players can win them via Pick Bonus Games that let players collect as many as they can, before a Collect prompt ends the feature.
During base games, regular wins are achieved by matching 3 or more images aligned in any of 20 paylines. In any ongoing roll of the reels, the Crazy Genie may decide to come out of his Lamp. Once he does, players are sure to benefit from his presence. As the Blue Spirit whirls around the play area, he will drop Gold Coins that reveal instant cash rewards; or he may activate the Wheel of Bonuses. Players are certain to emerge as Bonus Winners, whichever of the two features transpires,


Crazy Genie Online Slot: Wild Symbol
Even the Crazy Genie's icon can bring wonders, as it poses as the wild card of the game. Awesome even is that Genie Wilds may appear partially, or entirely stacked in any reel. A Wild aligning with a group of identical symbols within a paying line, certainly boosts chances of hitting, or of expanding a winning combination.
The best outcome is when the Genie Wild itself converges as matched icons in accordance with a pay pattern. Images of 3, 4, or 5 Genie Wilds that come together starting from the leftmost position of a payline, correspondingly award 30, 100 or 300 coin credits.
Crazy Genie Online Slot: Wheel of Bonuses
Another way of activating the Wheel of Bonuses is by landing on 3 Magic Lamp icons. The element though, emerges only in Reels 2, 3, and 4. Once all 3 center reels display at least one Magic Lamp after a single paid spin, the Genie will bring out the Wheel of Bonuses.
The Blue Spirit's swirling action creates a force strong enough to spin the wheel; subsequently activating any of the following 5 Bonus Games:
Gold Bonus – In this bonus feature, the Genie fills the reels with Gold Coins that reveal either Bet Multipliers or 1 Extra Turn. If a player wins an additional turn, the Genie will fill the reels with another batch of Gold Coins. However, if a player chooses a Gold Coin revealing a Multiplier with a Collect prompt, the game ends after the last available turn. Not unless, another Extra Turn emerges as Bonus Pick.
Pick a Gift is another bonus-picking activity. The Genie initially presents 2 Gold Coins for players to select. He will continue to add 2 more Gold Coins for about 5 times, as long the gift selected displays a Bet Multiplier. As in most Pick Bonus Features, revealing a Collect prompt will end the segment.
Pick a Treasure – This time, the Crazy Genie presents a game panel depicting a cave full of treasures. Every object displayed also reveals a Bet Multiplier that will increase in value if subsequent Picks reveal more Multipliers. Again, the segment ends once a revealed Multiplier comes with a Collect message.
Lamp Bonus – Here, Bet Multipliers are won by rubbing the Magic Lamp, and similarly, ends when a Collect prompt comes as part of the prize.
Oasis Bonus – The Crazy Genie emerges and discovers that his Lamp transformed into a piñata. He will then hit the hanging Piñata Lamp for about 13 times, whilst dropping Gold Coins for players to collect as instant bonuses.