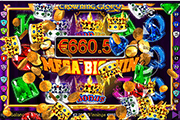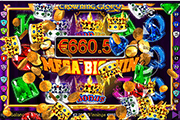 Crowning Glory Online Slot: Giant Symbols Plus Guaranteed Bonuses via Royal Reels
Crowning Glory is a Big Time Gaming, 20-payline offering that arbitrarily awards guaranteed wins via the Royal Reels. At any time during base plays, a 5-of-a-kind win is sure to emerge as outcome of a paid spin. The bonus event comes around once the Bonus Wheel rolls out to determine the symbol that will bring the special win. If luck is on a player's side, the Bonus Wheel may even land on the Crown Bonus icon and immediately set off the Free-Spins Bonus Round.
Although this Crowning Glory game has no Wild Symbol to offer as joker card, the reels contain Giant Symbols. The enormous images may appear in a 2 x 2 or 3 x3 dimension. Once a full display of Giant icon is in place, it automatically generates 4 or 9 consecutively positioned identical images. Such occurrences will of course, greatly improve chances of landing on multiple payline wins. In the Free-Spins Round, the Giant Gems have a tendency to emerge frequently.


The glimmering Platinum Crown is the highest paying image. Three, four, or five that land as payline contents, starting from the leftmost column, award 100, 200, or 500 coin credits. The Platinum Crown may also emerge as a Giant Symbol in both base and base game reels.
Another Crown Symbol is in play, in Gold color motif and labeled as BONUS icon. The Golden Crown though will not occur in huge Giant-size forms, but may land as Stacked Symbols to produce multiple images.
Crowning Glory Online Slot: Royal Reels Feature
On any base game spin and before the reels return to present an array of images, a Bonus Wheel rolls out to launch a spin. The Bonus Wheel presents a display of all Crowning Glory reel elements, including the Golden Crown Bonus Symbol. The wheel-spin determines the image that will appear as guaranteed 5-of-a-kind payline win of the ongoing reel-spin.
In the event the Golden Crown Bonus icon emerges as highlighted symbol, the game immediately advances to the Crowning Glory Free-Spins Round.
Crowning Glory Online Slot: Free Games
Aside from the Bonus Wheel entry, another way of activating the Free Games is by landing on three or more Golden Crown Bonus Symbols. The image though appears only in Reels 1, 3, and or 5. When all three reels return after a spin with a display of at least one Golden Crown per column, the Bonus Round activates.
A set of three winning Golden Crown icons award 12 free-spins. If more than three occur as outcomes of a spin, every Golden Crown posing as excess to the minimum three images, adds an Extra Free-Spin to the Bonus Round. The Bonus Symbol will still appear during the free bout. A set of three or more emerging after a bonus spin, retriggers another round of free games.
The Bonus Game grid has more Giant Symbols to produce as spin outcomes. Partial or full displays of the 2 x 2 or 3 x 3 icons, will frequently furnish identical images that heighten chances of raking in bigger bonus wins!